Follow Magic Mayhem on Facebook for all of the latest updates on store merchandise
Pictures from the magic filled store
More on Claire McCartney at https://yputu.be/fKS3wooFdwk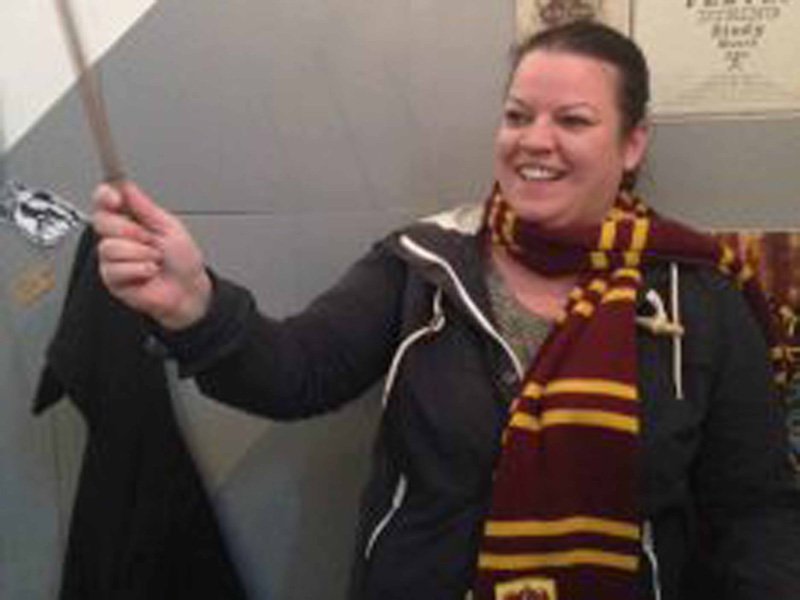 There's a little magic in Cardiff's Castle Arcade that will make every little girl believe she can have her own business.
Claire McCartney is the woman behind the new Harry Potter themed store in Cardiff, and the reason behind all of the new bustle in the city.
A swift move with a wand and a warm smile is how Claire welcomes her customers, while donning a black witch robe. Her eyes glaze over as she recalls on how her success begun.
"I've always worked for myself; I don't take orders very well."
Claire was creating a boss woman without even trying.
She worked for her father's catering company, where he entrusted the same work ethic and mindset that he had. Claire's father entrusted her with working on her own in the family business. From there, the ambitious young woman decided to venture on her own. She opened a gift shop in Lincolnshire and it has been open for the last 15 years. From this, Claire made her niche in the business world.
Putting her witch hat on, Claire was one of the many women entrepreneurs in Wales, and had started making her own empire. However, there was more opportunities out there; past the Harry Potter series made believe location, Diagon Alley. Claire wanted to expand her horizon.
Women entrepreneur
After the success of her small gift shop in Lincolnshire, Claire wanted to take on having another store, but this time, with Harry Potter stock. She did her research first and looked far and wide to talk to other merchants about selling the popular magical merchandise.
She saw that it was hard (even for J.K. Rowling's School of Witchery 's House, Gryffindors) to find Harry Potter merchandise. This, of course, excludes the Warner Brothers' store in London. She saw the need of having a store that was more central to people in Wales, and for Harry Potter lovers to not have to take a long commute to get the best merchandise.
"I want people to be able to find everything that they needed," Claire said. Thus, Magic Mayhem was created.
The store has been on booming since its October 27 opening day and it's only going to get bigger!
The store has been in talks of expanding the upstairs room to be filed with Game of Thrones and Fantastic Beasts merchandise, as well as opening up 2-3 more stores in the UK.
"Customers are loving it. We go out and talk to them and talk to them about the products, films, and the books. I didn't want a shop with just stocks and shelves.I want that customer interaction; especially the kids." Claire said as the smell of Butterbeer fills the store. She gushes to the young customers in the dedicated wall to the house elf, Dobby. Claire reaches down and and takes off her own rainbow colored sock to add to the wall; deeming the freedom for the fictional house elf. These moments are what Claire lives for.
"To talk about their favourite part of the film, and why they like it. We also have people who talk about what they did when they went to America to the studios. It's fab to just get everyone talking and get everyone excited about it."
This is only the beginning for Claire McCartney, and business women in Cardiff.
Follow Magic Mayhem on Facebook for all of the latest updates on store merchandise
Pictures from the magic filled store
More on Claire McCartney at https://yputu.be/fKS3wooFdwk
About Post Author