Voxpop: How do you think environmental issues and energy structures have affected the Welsh landscape?
Exhibition details: Pierhead Future's Gallery, Cardiff Bay, CF10 4PZ
4- 28 October 2016
Open daily 10am – 4:30 pm
Audio commentary from bothEloise and Dr Payne is available for visitors of the exhibition. Eloise literally found common ground with environmental historian Dr Jill Payne in their discussions of the transforming Welsh landscape, and the potential dead end of energy.
Eloise Govier – Belonging to the Landscape? A visual of the exhibition can be found here.
Find out more about Eloise Govier on her official website
Learn more about the Welsh Government's Renewable Energy Topic
Further information about the Welsh Government's Climate Change Strategy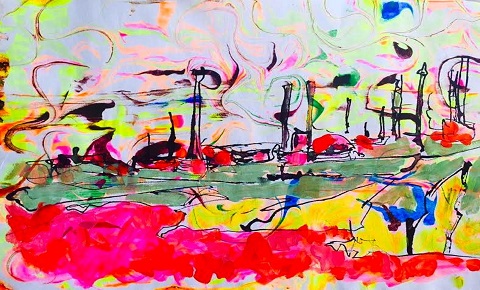 Pierhead Future's Gallery is hosting an art exhibition to encourage our generation to observe and celebrate the contemporary Welsh landscape.
Local artist Eloise Govier's paintings and sculptures preserve in time a vision of our modern, transformed country. Belonging to The Landscape? offers a commentary on man-made additions and structures to our scenery and identity.
Eloise's exhibition highlights industrial vulnerability, like Port Talbot's steelworks or Milford Haven's decommissioned oil refinery. This shut-down mean changes to our iconic landscape.
Her art is intended to make us stop, look, and think of our non-renewable or renewable energy choices, and what they entail for future generations.
Located near the Senedd, the exhibition coincides with the assembly's Climate Change Engagement Strategy for Wales, and its low carbon ambition strategy by 2020.
"The transition to low carbon means our landscape is transforming," said Eloise. "Energy is always advancing, and wind turbines won't be here in the possible future."
The funky digital processes of her paintings, alongside age-old methods of drawing and painting are what a visitor described as "a nuclear fusion." Eloise wanted the bright, contrasting colours of her Expressionist and Colurist pieces to draw visitors to the all-important environmental themes discussed.
"I wanted to spotlight issues and open up areas of discussion – especially inter-generational discussion," she said.
Families can enjoy the exhibition's child-friendly resources, work-sheets, and navigational activities that Eloise included to support child learning.
Created in response to the Welsh Government's Well-Being of Future Generations Act, the artwork represents Eloise's belief that the Government are positively forward-thinking.
The Well-Being Act, effective April 2016, will improve energy strategies to ensure Welsh heritage is conserved. Assembly member Joyce Watson, supporter of Eloise's exhibition, fully backed the Act.
"We are now seeing, alongside our traditional heavy industries," said Joyce, "the rise of new energies such as tidal, which I have championed for many years."
We asked the people of Cardiff how the landscape has changed for them…
About Post Author