A Christmas night market with an eco twist:
Register here to gain free entry for the Ethical Cardiff Night Market: Christmas Edition. Although the event is free, pre-registration is required to gain entry.
Check out the Event Page for more details:
To connect with Green Valley Moves or learn more about the ethical night market, use the following channels:
·        Twitter: @GreenValleyLets
·        Website:
Learn more about Catherine Woods, founder of Green Valley Moves, by reading her blog on sustainability and green initiatives.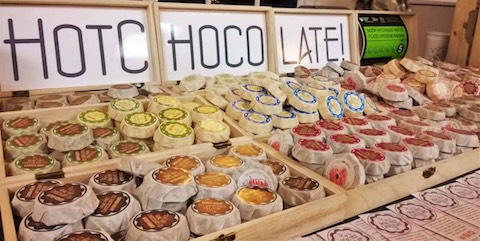 Cardiff's first ethical Christmas market will sparkle to life at sunset on 10 December, to give city goers a chance to purchase eco-friendly gifts. The market will be held at the Cardiff Speaker Hire warehouse in Dumballs Road, and run from 4pm until midnight on the day.
Catherine Woods, is the founder of Green Valley Moves, eco-friendly letting agents organizing the event. She says the idea came about because she wanted to create a unique community project to promote sustainability and inspire eco living.
"I wanted to give local entrepreneurs a platform to showcase their talent while letting people in Cardiff enjoy an alternative night out shopping for Christmas presents," Catherine explains.
This first of its kind night market will be free (with prior registration) and almost 40 kiosks will be set up indoors as well as outside the warehouse to give people a chance to eat, drink and be merry the bio-friendly way.
Sara Lart from Seren Willow will sell Christmas decorations purely from willow, hand-made in Cardiff.
"A lot of love goes into her products," explains Catherine.
Local cafes who will set up stalls at the market include Waffle, a Canton based coffee shop, that will sell a selection of hand-made vegan waffles while Blanche, a new dairy free bakery will promote Christmas cupcakes.
"Blanche cupcakes are utterly, utterly delicious and I can't wait to try them again at the night market," says Fiona Owen, a non-vegan.
Catherine says her aim is to create a chilled out, inviting atmosphere at the market with the help of talented musicians in Cardiff.
"Sam Hickman is known for busking in with the harp and Naomi Rae will add her blend of soul on acoustics at the event," Catherine reveals.

"I think I've stumbled upon something that could potentially be developed into a brand. Perhaps ethical Cardiff night market Easter edition?" jokes Catherine.
About Post Author