Travel voxpop
We took to the streets of Cardiff to ask the local people their favourite places to visit in South Wales
The Yma team share their top tips for exploring the area
Priyankaa Joshi, 27, Bristol 
"I absolutely love the walk from Tintern Abbey along the western bank of the River Wye to the Devil's Pulpit. I've only lived in Cardiff for a few months but I've already done it three times. It takes around an hour and a half and you get some stunning views of the abbey along the way. After the walk, head to The Anchor Inn pub for a hearty meal or a slice of homemade cake and tea. It's a 50-minute drive from Cardiff or you can get there by train. The nearest station is Chepstow."
Elissa Abou Merhi, 22, Cardiff
"There's no doubt that my favourite view in South Wales is the vista of Rhossili Bay, a well-deserved gift at the end of a muddy walk. Still, the one place where I had the most fun was Big Pit, an industrial heritage museum in Blaenavon. I knew relatively nothing about the mining community, so getting to discover this part of Wales' history through personal anecdotes from our guides, real miners, was an experience of a kind. Although their deep Welsh accent isn't always the easiest to get, their smiles and passion communicate well enough!"
Sean Rees, 22, Swansea
"If you are looking for a scenic experience that is off the beaten path, look no further than Caldey Island off the coast of Tenby, Pembrokeshire. A 15-minute boat ride from the sandy shoreline of the mainland, Caldey Island is home to a Cisterian monastery, its own chocolate factory and striking views of the Bristol Channel from the lighthouse at the very end of the island trail."
Peter Wolinski, 27, Cardiff
"It takes quite a lot to beat Caerleon and Usk, if you ask me. Both towns are near Newport and both are absolutely perfect for a history nerd like myself. Caerleon is the site of the ancient Roman Legionary fortress Isca Augusta, and you can still see the amphitheatre and baths today! Usk is also home to its own fortifications, a Norman castle built in the 12th century to secure the Welsh marches. Each town sits on the river Usk, and each features narrow medieval style roads snaking between walls and old buildings. The Usk road connects the two, and is popular with bikers and driving enthusiasts for its challenging twists and turns"
Chelsea Davies, 22, Pontypool
"I love an area called the Fox Hunter in Blaenavon. It's near Big Pit; when the museum was still a working colliery, a lot of the waste slag was left on the mountain. In the autumn, when all the heather is out on the hills, it's just breathtaking. The walk is fairly easy compared to a lot of mountain hikes around here but the view from the top is one of my favourites. You can see all the way to the Severn Bridge on a good day, with the Blorenge, the Skirrid and Pen y Fan on the other side of the valley. It's so peaceful."
Get more travel tips from
Yma
via Instagram
 

 

View this post on Instagram

 
Here are all the locations that feature in the first issue of Yma:
National Geographic has announced its 25 best travel destinations for 2020 and Wales made the cut alongside India, China and Argentina
National Geographic magazine has released its 25 top travel destinations around the world for 2020 and the Wales Way made it onto the list.
The Wales Way is made up of three touring routes across the country; the 185-mile Cambrian Way, which snakes through the Brecon Beacons and Snowdonia National Park, the 180-mile Coastal Way around Cardigan Bay, and the North Wales Way, which stretches 75 miles from Queensferry to Anglesey.
According to the global travel magazine, the three fully mapped routes showcase the best of the legend-filled land and get the blood pumping.
The selection was based on four categories: cities, nature, culture and adventure. Wales fell under the adventure category.
Other places to feature on the shortlist include Tasmania, the Canary Islands, the Kalahari Desert in Botswana and the Maldives. No other locations in the United Kingdom were chosen.
The Visit Cardiff team said, "We're thrilled to see Wales recognised at an international level. The Cambrian Way route begins in Cardiff, making it the perfect starting point for a Welsh adventure.
"Cardiff is full of culture, history, charm and entertainment. The city acts as the gateway to the wider South Wales region, with its beautiful beaches, mountains and fascinating heritage."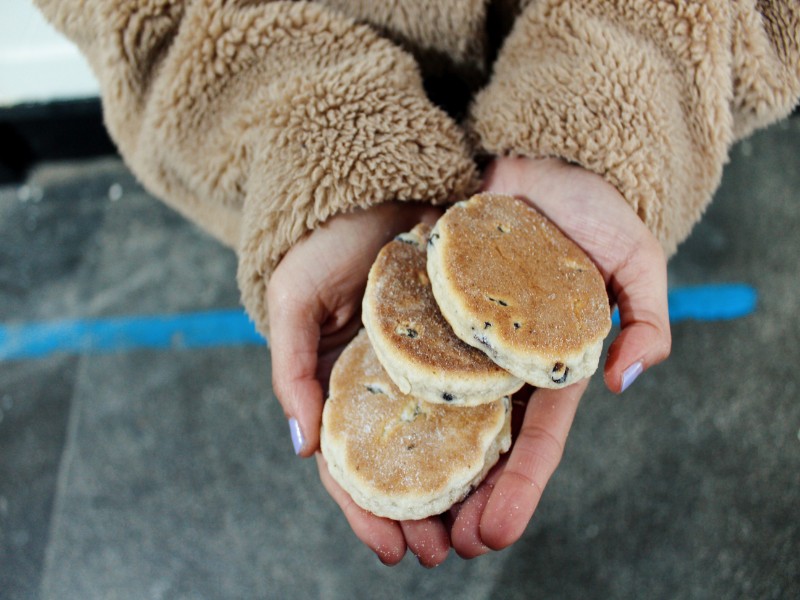 There's also a new travel magazine that shines a light on this epic region that stretches from coast to peak. Yma, based in Cardiff, aims to help those living in South Wales discover what's on their doorstep.
"It's easy to get caught up in life and forget to explore the place that you live," says Priyankaa, a writer on the magazine. "With Yma, we want to help people make the most of their surroundings because South Wales has so much to offer."
The first issue launched this week with features on Cardiff, Brecon and the Gower. Take a look to gain some inspiration for things to do in the area over the festive period.

Travel voxpop
We took to the streets of Cardiff to ask the local people their favourite places to visit in South Wales
The Yma team share their top tips for exploring the area
Priyankaa Joshi, 27, Bristol 
"I absolutely love the walk from Tintern Abbey along the western bank of the River Wye to the Devil's Pulpit. I've only lived in Cardiff for a few months but I've already done it three times. It takes around an hour and a half and you get some stunning views of the abbey along the way. After the walk, head to The Anchor Inn pub for a hearty meal or a slice of homemade cake and tea. It's a 50-minute drive from Cardiff or you can get there by train. The nearest station is Chepstow."
Elissa Abou Merhi, 22, Cardiff
"There's no doubt that my favourite view in South Wales is the vista of Rhossili Bay, a well-deserved gift at the end of a muddy walk. Still, the one place where I had the most fun was Big Pit, an industrial heritage museum in Blaenavon. I knew relatively nothing about the mining community, so getting to discover this part of Wales' history through personal anecdotes from our guides, real miners, was an experience of a kind. Although their deep Welsh accent isn't always the easiest to get, their smiles and passion communicate well enough!"
Sean Rees, 22, Swansea
"If you are looking for a scenic experience that is off the beaten path, look no further than Caldey Island off the coast of Tenby, Pembrokeshire. A 15-minute boat ride from the sandy shoreline of the mainland, Caldey Island is home to a Cisterian monastery, its own chocolate factory and striking views of the Bristol Channel from the lighthouse at the very end of the island trail."
Peter Wolinski, 27, Cardiff
"It takes quite a lot to beat Caerleon and Usk, if you ask me. Both towns are near Newport and both are absolutely perfect for a history nerd like myself. Caerleon is the site of the ancient Roman Legionary fortress Isca Augusta, and you can still see the amphitheatre and baths today! Usk is also home to its own fortifications, a Norman castle built in the 12th century to secure the Welsh marches. Each town sits on the river Usk, and each features narrow medieval style roads snaking between walls and old buildings. The Usk road connects the two, and is popular with bikers and driving enthusiasts for its challenging twists and turns"
Chelsea Davies, 22, Pontypool
"I love an area called the Fox Hunter in Blaenavon. It's near Big Pit; when the museum was still a working colliery, a lot of the waste slag was left on the mountain. In the autumn, when all the heather is out on the hills, it's just breathtaking. The walk is fairly easy compared to a lot of mountain hikes around here but the view from the top is one of my favourites. You can see all the way to the Severn Bridge on a good day, with the Blorenge, the Skirrid and Pen y Fan on the other side of the valley. It's so peaceful."
Get more travel tips from
Yma
via Instagram
 

 

View this post on Instagram

 
Here are all the locations that feature in the first issue of Yma:
About Post Author