The British Red Cross on Albany Road can be found here:
Reasons to volunteer
To build team working skills
To enhance a CV
To make a charitable contribution
To gain an NVQ qualification
To gain retail experience
Find specific lists here: Cancer research UK, British Heart Foundation, Milkround
Feeling inspired? Then pop into your local charity shop to help out.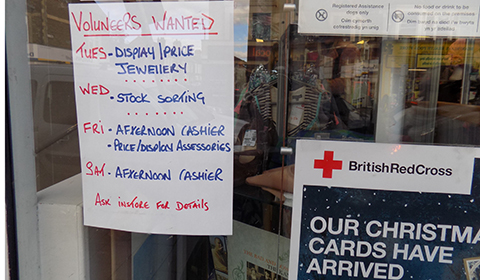 In the run up to Christmas, a number of Cardiff's charity shops are struggling to get enough volunteers to meet store demands.
The British Red Cross, among others, on Albany Road is currently seeking volunteers to help keep their store open and running smoothly.
Julieann Chick, 38, the assistant manager of the British Red Cross shop says, "It depends on the shop really, we are rather fortunate here because it's a busy high street but I know other charity shops that really struggle to get volunteers."
Highly specific advertisements are often placed in this shop's window. These adverts make finding suitable candidates infinitely easier. It's an approach that seems to work for busy charity shops on hectic highstreets, but certainly does not work for all of them.
Across the UK there are 10,500 charity shops according to the Charity Retail Association. These shops are supported and in some cases entirely run by a total of 221,000 generous volunteers who donate their time as well as old clothes and other bits of bric-a-brac. That means that on average each charity shop is manned by 20 people. However, there is still a deficit to some charity shops which aren't situated in busy shopping areas.
Julieann went on to praise a number of volunteers who are students. She indicated that students are often encouraged into volunteering from a young age whether it be via the Duke of Edinburgh scheme or the Welsh Baccalaureate.
However, with less than 1% of the UK's population volunteering their time in charity shops, it potentially indicates that people feel more comfortable donating their money instead of their time.
This notion is exemplified by the Children in Need campaign which raised a record breaking £55 million last year.  In just over a week's time television viewers are set for another star studded evening on the 18 November which looks to continue last year's success.
About Post Author