The top trends in hair as explained by Suzanne Hellyar, co-owner of Hair Candy Salon:
1.Balayage: Free hand highlighting – a more natural look concentrating on the ends of the hair. It's a French technique.
2.Bright colours: This is currently popular on Pinterest and worn by Suzanne
3. Colour in general: All the stars and celebrities are doing it so people are trying to emulate them.
You can find Suzanne at her salon, Hair Candy, which is located at 68, City Road, Cardiff or connect with her via the salon's Twitter handle @HaircandyS or Facebook page.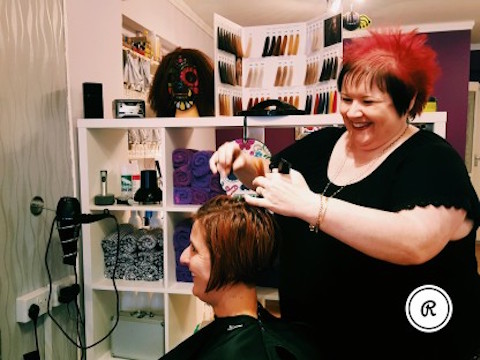 A small business owner from Lakeside speaks about her passion for making people look good
With neon pink hair and a warm smile, hairdresser Suzanne Hellyar tends to instantly light up the room as she whizzes in to attend to a customer. She feels right at home here in her City Road salon; one she has proudly co-owned for the past year and five months.
Suzanne's love for hairdressing began over 20 years ago, "It's just something I always wanted to do, right from school. I've always been interested in people's hair and making them look and feel good." Like most young girls at the time, Suzanne wasn't into fashion she reveals, just hair. After school, she continued studying hair dressing at Barry College for three years.
Transforming lives
"Transforming lives" is how she magnificently puts across her profession. When a customer walks into the salon Suzanne says she feels challenged and obligated to do her best to get it right. "It's exciting because they come in and have problems with their hair and I get to sort it out," she says of the salon's customers. She then quickly raps her knuckles on the purple wall panel behind her and mouths "touch wood." It's apparent that she doesn't want to tempt fate nor jinx her good fortune thus far. She explains that Hair Candy hasn't had any instances where customers have been dissatisfied with the styling service or where things have gone horribly wrong.
She is immensely pleased with the fact that none of the salon's regulars have experienced any 'bad hair days', so to speak, under her guidance and that of her business partner Jessica David.
Breaking Free
Prior to opening Hair Candy in May 2015, Suzanne was the deputy regional manager of a large salon in Queen's Arcade. However, as this chain continued to expand, she felt disconnected from her calling as she wanted to devote more time to customers needs and give them the personalized care and attention worthy of their hair.
After 14 years of experience in the industry, her passion for great service, customer experience and loyalty persuaded her to venture out and start business on her own terms.
Which is why, she explains, everything at her unisex salon from the interior décor and colour scheme to the parlour's catchy name, flamboyant logo and fuschia towels has her (and Jessica's) personal touch and input.
About a woman
Born 41 years ago in Lakeside,Cardiff, Suzanne now resides in Barry with her husband. She commutes to work daily via car. "I like fast cars, particularly BMW's," she laughs out loud. Bad parking however is one of her pet peeves and rude people annoy her, she exclaims emphatically.
Her idea of relaxing is people watching or enjoying a nice cup of tea accompanied by cake with her business partner, who she fondly calls 'Jess.'
Her love for all things metallic is evident by a long, chunky gold necklace which dangles as she stands up. It highlights her simple black attire and short hair. "I like shiny things, doesn't have to be diamonds," she giggles.
Get to know Suzanne a little bit better via this quick fire round of 5 questions:
About Post Author