What would Trevor rather?
Only ever drink…
Light roast or dark roast coffee?
Light roast.
Espresso or flat white?
Espresso.
Only ever use…
iPhone or Android?
Android.
Facebook or Twitter?
Twitter. Follow Trevor @TheBeanVagrant
Wonderful to be included in the Sunday Times Best Coffee Shops in the UK today. What a lovely surprise!! #teamPlanhttps://t.co/PNc8XrXRmj

— The Bean Vagrant (@TheBeanVagrant) January 8, 2017
Fight…
100 duck-sized-horses or one horse-sized-duck?
100 duck-sized-horses.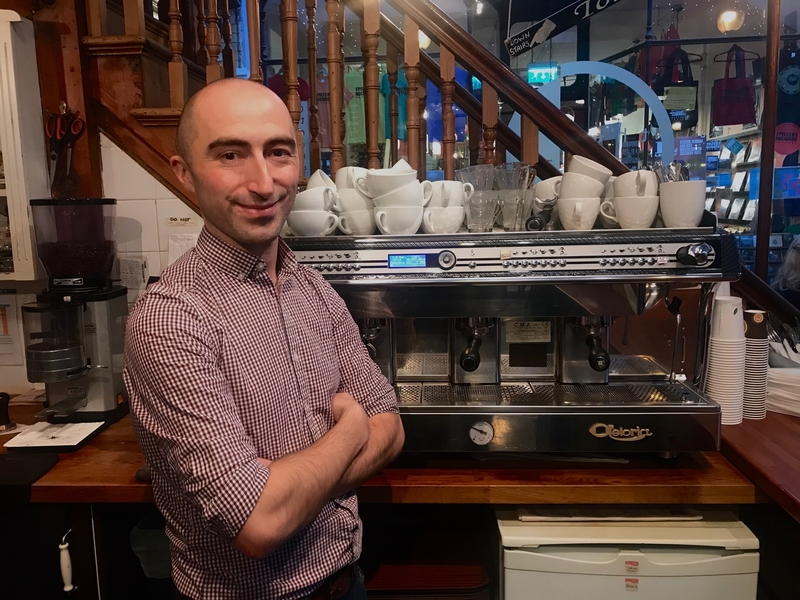 He was one of the first to bring specialty coffee to Cardiff and a finalist in the UK Barista Championships: meet Trevor
Starbucks' stock was down by 11.38%, according to a statistic released over the summer.
The popular high-street coffee shop is facing "market saturation," said Fforbes, as competition from both chains and independents is on the rise.
One man who isn't struggling with the competition is Cardiff's Trevor Hyam, head barista at The Plan cafe in Morgan Arcade.
"We're just as busy as ever," he said.
Trevor has been working at independent cafe The Plan since 2007, when he moved to Cardiff with his wife to be nearer family.
They attended university together in the midlands, where Trevor studied Fine Art, but it wasn't until after he graduated that he began to develop a love of coffee.
What was the plan?
It was Trevor who brought specialty coffee, also known as third wave, to The Plan.  
He explained: "Previously the cafe served coffee but it was never done with any particular degree of skill, the beans weren't high quality beans, that's more of a desire that I brought with me."
Since Trevor has been working there, The Plan has been featured in lists of top UK coffee shops for a number of newspaper titles, including The Independent and The Daily Telegraph.
"I've also competed in the UK Barista Championships," he said.
Trevor was the third runner-up in the 2010 competition.
He described the intensive processes of each heat and how the baristas fine tune routines with their coffees for weeks and months beforehand.
There are only six people in the final.
Trevor said: "If you get through to the finals, it's almost like a chef getting a Michelin star."
It was a great achievement, he added, explaining how nobody in Wales has progressed as far as him since.
What is the plan?
At The Plan it can take a year for the baristas that Trevor trains to hone their coffee skills.
"There's literally so much to learn with coffee," he said, "I'm still learning things all the time."
"I love what I do so that makes me want to work hard"
He described the science involved with getting certain flavours into a cup.
Trevor believes there's much more to coffee than people generally realise.
When asked about the hardest part, he detailed how fast-paced working in the cafe 45 hours a week can be.
He said: "That's kind of the difficult aspect of the job but I love what I do so that makes me want to work hard."
Maintaining The Plan's great reputation is a full time endeavor, he said, and so there's no talk of opening any further branches.
Trevor thinks that opening more cafes is the mistake that lots of places make.
"Maintaining the quality between multiple cafes becomes very difficult," he said.
At The Plan, Trevor describes the coffee as more specialised and crafted than in the chain coffee shops.
Though the coffee market in Cardiff has grown significantly since he arrived in 2007, Trevor said that The Plan hasn't at all been affected by the new competition.
The key? He said: "I have a genuine care and a passion for what I do, you need to have that to do well in coffee."
About Post Author