What are the biggest challenges facing women in business today?
Cynthia Wihardja, leadership coach, Indonesia
"I think it's being comfortable with knowing how to do business the woman's way. A lot of leadership and business books, perhaps because of historical involvement of men, have been written predominantly, in my opinion, from a male leadership perspective. You have to learn to actualise your potential. You need to gain skills and achievements to make yourself marketable."
Jen Hall, business coach, Cardiff
"Women need to step up when they are given an opportunity. You should put yourself forward for everything and not back down. I think people bang on about not having opportunities but the opportunities are there, they just need to find the confidence to ask for it, own it and actually go for it. It's all about how you market yourself, how you articulate what you do and how that's a unique benefit to the market."
Angelika Niemanski, business development manager, South Africa
"Finding the confidence to break into the market and to establish yourself. From personal experience, trying to have a family and doing business, or working for a company is challenging. It's that work-life balance that is really tricky for everyone to master in this day and age."
Claire Preece, independent travel agent, Colchester
"I think one of the biggest challenges for women in business is the constant juggling act – being good at everything; being a mum, keeping a home, running a business – being good at all of those things. I know there are a lot of women who are in a predominantly male environment and that can be hard." 
Some inspirational quotes from the women at the Women's Business Lunch last week. @wombizclub #femaleleaders #strongwomen 💁🏼‍♀️✌️ pic.twitter.com/lfb9ANDYLJ

— alt cardiff (@alt_cardiff) November 25, 2019
Female leaders got together in Cardiff to discuss securing a place in the market post-Brexit and the importance of personal branding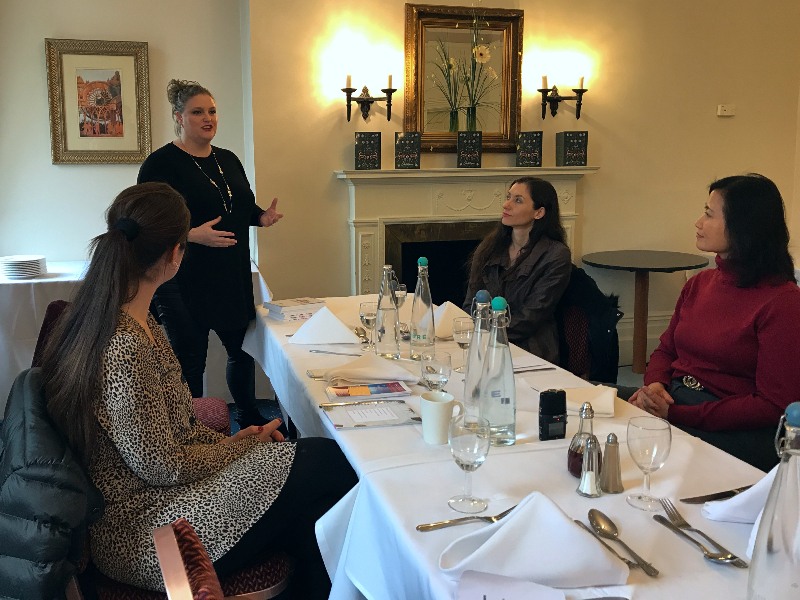 A nationwide community for female entrepreneurs and business owners hosted an event in Cardiff on 20 November.
On the back of Women's Entrepreneurship Day on 19 November, Women's Business Club came together for an informal networking lunch at The Angel Hotel.
The club offers members the opportunity to make new contacts, learn from each other and discuss the challenges of being a woman in business, including the gender pay gap and the lack of women in senior positions.
"It's uplifting to come here and get together with like-minded people. The sessions are really productive; we put it all on the table and give each other advice," said Claire Preece, an independent travel agent for Travel Counsellors. "Feeling like you're supported and being part of a community as a woman in business, is really important."
The event began with some informal networking over coffee and a '60 second business pitch' session, giving members the chance to share who they are and what they do.
After lunch, guest speaker Cynthia Wihardja, a leadership coach from Indonesia, shared her expertise on how to be a successful leader and take control of any situation.
This was followed by the signature 'wonderbra' session which gives members the opportunity to share any concerns they have about their business, offering support and advice in return.
The key takeaway from this session was the importance of establishing a niche and offering something useful and unique in a crowded marketplace.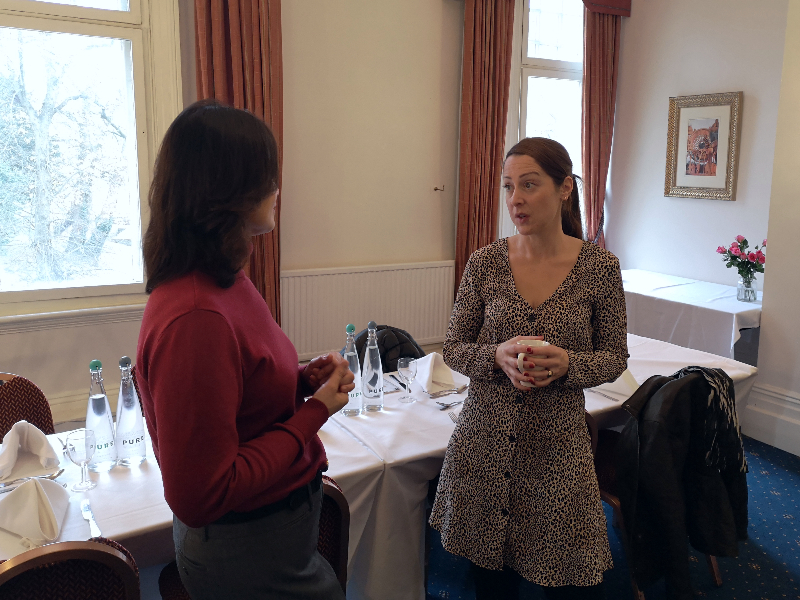 Founder and CEO, Angela De Souza, set up Women's Business Club in 2013 to create an inclusive and supportive network for women in business.
"I wanted to put on events that I, as a woman in business, would feel comfortable attending myself," explained Angela. "Our main goal is to empower women to be all that they can be in business.
"As well as creating a powerful movement of strong women, it also has the potential to impact the national economy," she added.
A recent report by the Office for National Statistics revealed that the gender pay gap in Wales has increased to 14.5%, a 1% increase from 2018. The figures also show the gap to be as wide as 25.6% in Torfaen. In Blaenau Gwent, men earn 23.8% more than women, a 2% increase on the previous year.
According to research by charity Chwarae Teg, achieving gender equality in Wales could add £13.6 billion to the Welsh economy.
For guest speaker Cynthia, networks like Women's Business Club are crucial. "It's like in story books – a woman is always locked up in a castle somewhere, waiting to be kissed. I'm interested in equipping women with the skills so they can take control and succeed in business."
The meetups take place on a monthly basis and women at all stages of their career are welcome to attend. Find out more about Women's Business Club.

What are the biggest challenges facing women in business today?
Cynthia Wihardja, leadership coach, Indonesia
"I think it's being comfortable with knowing how to do business the woman's way. A lot of leadership and business books, perhaps because of historical involvement of men, have been written predominantly, in my opinion, from a male leadership perspective. You have to learn to actualise your potential. You need to gain skills and achievements to make yourself marketable."
Jen Hall, business coach, Cardiff
"Women need to step up when they are given an opportunity. You should put yourself forward for everything and not back down. I think people bang on about not having opportunities but the opportunities are there, they just need to find the confidence to ask for it, own it and actually go for it. It's all about how you market yourself, how you articulate what you do and how that's a unique benefit to the market."
Angelika Niemanski, business development manager, South Africa
"Finding the confidence to break into the market and to establish yourself. From personal experience, trying to have a family and doing business, or working for a company is challenging. It's that work-life balance that is really tricky for everyone to master in this day and age."
Claire Preece, independent travel agent, Colchester
"I think one of the biggest challenges for women in business is the constant juggling act – being good at everything; being a mum, keeping a home, running a business – being good at all of those things. I know there are a lot of women who are in a predominantly male environment and that can be hard." 
Some inspirational quotes from the women at the Women's Business Lunch last week. @wombizclub #femaleleaders #strongwomen 💁🏼‍♀️✌️ pic.twitter.com/lfb9ANDYLJ

— alt cardiff (@alt_cardiff) November 25, 2019
About Post Author