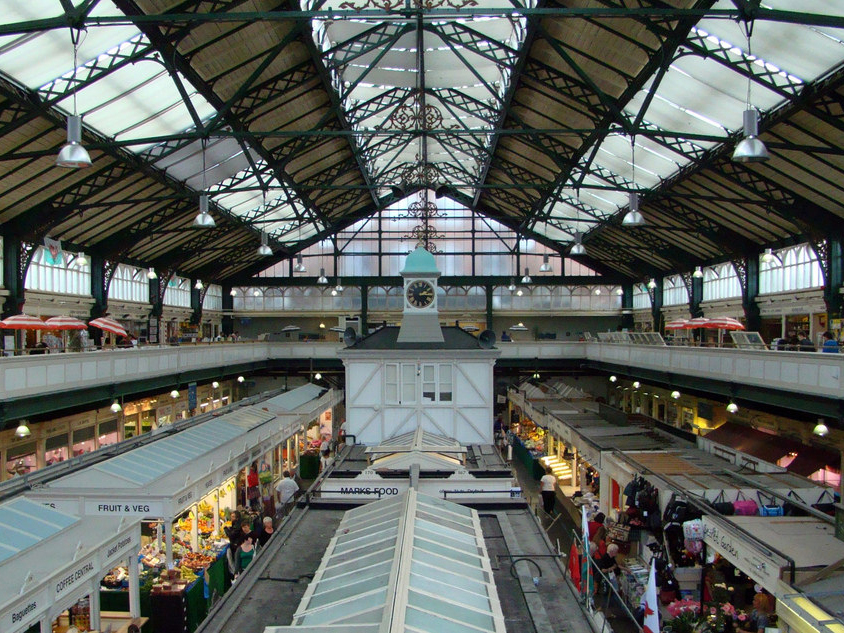 Stalls have been brought up by two of our city's most treasured indies who are setting up shop in Cardiff's central marketplace
It's 8am and the doors have opened; service is in full swing. Voices shout this way and that, only to be drowned out by the rustling of hurried footsteps. The booming echoes of traders can be heard as they begin to display their wares just before the early birds flock inside.
This impressive Victorian structure was once a farmer's market and is about to get a modern day makeover with a twist that aims to bring its history full circle.
Some of the city's most beloved independents, Milgi and Penylan Pantry, are venturing off into Cardiff's city centre hoping to offer more than just the regular chain options. These food establishments have their sights set on the market for their new business ventures.
Penylan Pantry, on Kimberly Road, is a corner-shop-cum-deli-counter, which aims to celebrate home grown British produce. It was the owners love of food that drove the pantry to gain significant success. Melissa and Jo's larder filled with flavoursome goods from around the British Isles it already teased taste buds with its pop-up-shop at 29 Park Place in early November. And now, the pantry is about to sink its teeth into some city centre action.  The Cheese Pantry opened its doors inside the market on the 26 November to a warm welcome.
"It was a good first week; an excellent one," Melissa chirped away merrily, while busily serving customers. People from a variety of cultures and backgrounds flocked to the pantry's counter to get a whiff of the tasty exclusives that are on offer.

"Everyone has been so welcoming," Melissa smiled on. "The other traders have been pleasant and friendly."
Luvely bubbly has only been in the market for three months. And, it's owner Julie Alford thinks the opening of the Cheese Pantry will add a much needed modern mix.
Succulent Street food
Milgi will also intensify this indie atmosphere. A city road favourite for the past ten years, Milgi is a haven of plant based foods. Specialising in vegan and vegetarian cuisine it will opt for a slightly different tact and head down the street food sector.
Cardiff's street food trend started out in 2014 when the Street Food Circus launched into action with just four determined traders.
Since then, the number of traders at the Street Food Circus has nearly quadrupled with Milgi being one of them. In August, customers were welcomed into one of their unusual sky yurts where they tucked into three sumptuous courses.
This market stall, however, is aimed at those workers on the go.
"It's fast food in the city centre, but it's healthy," Milgi's owner, Becky Kelly, explained.
Their demographic is a simple one: anyone interested in plant based food. "Our cliental vary from retired teachers to supermodels," Becky chuckled.
It's the indie effect
In recent years there has been a growing consumer thirst for independents across the UK high street. Joe Schuppler, founder and editor of Independent Birmingham, says: "I think people have become disillusioned with the generic high street brands and yearn for something special, something different and unique that differentiates their city from others."
Melissa is determined to be that something special. "Often tourists don't see us independents, because we are situated outside of the city centre." Inside the market, overheads and rent is cheaper so it gives those character driven independents the opportunity to succeed in the city centre.
Additionally, a report from the Office For National Statistics (ONS) suggests that things are looking good for these local business tycoons, as the grocery market now accounts for 53 pence of every pound spent in all retail sales. This is good news for Penylan's cheesy hotbed and Milgi's menagerie of goods.
Currently, 29% of the UK's purchases are made up of "intelligent impulsives," (customers who impulse by, but do so selectively). And, in the run up to Christmas this is surely the icing on the cake for market traders.
This festive season the Cheese Pantry are compiling together bespoke hampers. But, they are already looking towards the new year. "We are going to introduce wholesale cards," Melissa exclaimed excitedly.
The wholesale card will allow chefs from independent restaurants to taste what they're buying and give them back some control. She says, that cheese is a living product and it's forever changing so its important it's are sampled.
Milgi, however, has a slightly different approach to 2017:
"This is our future, our current future," Becky laughed. "I think we will settle in here for a bit first."
It's 5:30pm and the market holders are about to shut up shop for the day. While the manic hustle and bustle has died down there's a still a scrambling for some last minute purchases before the shutters close.
And, if that doesn't have you convinced then take a walk through the market itself:
Related Articles: 
We certainly love supporting our independents here at Alt: Anna Loka, Brod as well as the market itself: Tumeric 
About Post Author