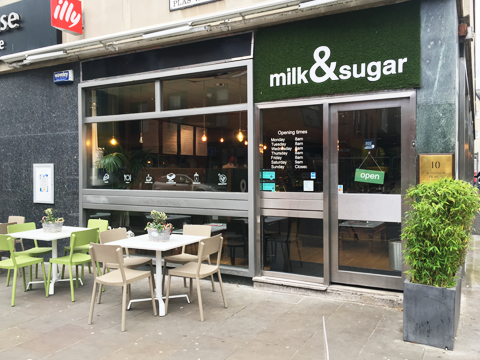 This popular city centre café beat the competition as the judges' cup of tea
As far as independent cafés go, Milk & Sugar has been voted the cream of the crop in the recent Good Food Awards 2017.
Located on Windsor Place in the city centre, the small business sits just a short walk from big name brands like Starbucks, Costa and Caffé Nero, but still manages to hold its own.
Its success is due in no small part to owner Tim Corrigan, 47, whose passion shows through aspects of his business. "We stick to what we believe in and always try and go above and beyond," he says, "But we're all just trying to survive, even some of these global companies.
It is undoubtedly Tim's dedication to detail, quality and customer service that has earned the café its five star rating on TripAdvisor. As of 2015, the company has spread across three locations and is quickly becoming a must-visit destination for food lovers far and wide.
One customer on the popular travel site wrote: "The food is amazing quality and the staff are so friendly and welcoming, would recommend to anyone," while another says: "Definitely better than spending your money in a chain shop."
Despite this, Tim says that winning the Good Food Award came out of nowhere for the business: "It was a really nice surprise, because it means that someone has taken the time to look around and thinks that you are worthy of an award."
The owner, originally from Singapore, certainly has a shrewd business head on his shoulders and knows that such an award can pile on the pressure to perform – but he doesn't seem to be too worried about the future.
"When I come into the shop, I just spend the day talking and laughing with customers," he explains. "If you're doing whatever it is you enjoy, the success will come from that."
About Post Author