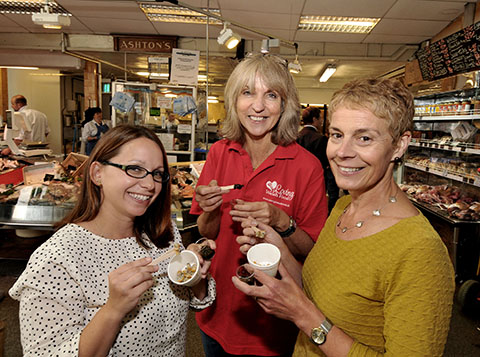 A venture providing Cardiff tasting tours has played a significant role in building the reputation of Welsh food in the country and beyond.
Loving Welsh Food, created by Sian B Roberts, currently runs a Cardiff tasting tour and food and drink safari which take place every Friday and Saturday respectively. The tasting tour, which has been running for a year, allows participants to visit numerous places of interest across the city while sampling various Welsh delicacies including bara brith, laverbread and faggots. Similarly, the safari provides tourists with an authentic taste of Wales, with individuals tucking into cawl, a Welsh lamb soup made from locally sourced ingredients, alongside a selection of cheeses and charcuterie. 
These enterprises have helped to put Welsh food on the map and are gaining increasing levels of interest, with support from Visit Wales and independent tour operators from across the country. Sian says: "We still have this mentality that French cooking and Italian cooking is more exotic; it's more sexy than Welsh food, but we're definitely getting there."
The introduction of the Cardiff tasting tours has demonstrated how little people from outside of Wales know about its food and culture. This uncommon tourist destination is not widely recognised for its culinary excellence; yet Loving Welsh Food has taken advantage of the opportunity to cater to those visiting Wales who are actively looking to try local dishes. Christine Lewis-Ethelston, who has been on the tasting tour, says: "The tour guide was great and the places visited were interesting with some lovely food. It was an easy way to be introduced to Cardiff city centre."
Loving Welsh Food, which focuses primarily on public tours at present, is looking to create more specialised experiences for particular groups. They hope to introduce excursions for those in the corporate world and also plan to explore more areas outside of Cardiff.  
About Post Author