A variety of flavours entice e-cig customers:
One reason electronic cigarettes, or vapourisers, are so popular is due to the expansive collection of odd and colourful flavours.
Liam O'Shea, 25, assistant manager for E-Cigilicious in Cardiff, says, "We have a load of different flavours, and it's always changing,
"The most unique flavour we've got is 'Bollywood' – a mixture of Indian spices and floral flavours."
He explains that this particular liquid is based on something from Eastern Asia, called 'sweet paan'. In India, paan is chewed and spit, leaving a stained-red substance.
If you'd like to try some 'Bollywood', visit Liam: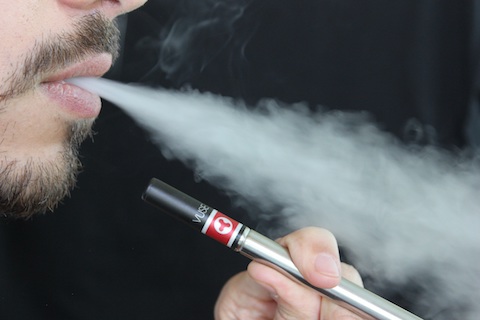 Recent concerns about when using electronic cigarettes (e-cigs) by the chairman of British Medical Association's Welsh Council, Dr Phil Banfield, have reignited debate into the popular device.
Dr Banfield expressed concerns regarding the possible longitudinal effects, such as cancer-causing toxins, that are yet to be confirmed from long-term e-cigarette usage.
Following safety aspects of this, examples of e-cigs catching fire and exploding have also sparked discussion around the tobacco substitute.
Liam O'Shea, 25, assistant manager for E-Cigilicious in Cardiff, claims that "misuse" is the reason behind such faults.
Liam explains that many e-cigs use a USB connector that charges the battery, stored in the body piece, known as a 'mod'. He says that in the cases where e-cigs have exploded the common cause is routed in users plugging the USB cable into other peripherals, their phone adapter, for example.
These devices operate at different amp (measure of power) levels, which consequently leads to e-cig batteries overcharging.
E-cig interest has grown considerably:
Where there's smoke…
Smoking bans that affect e-cig usage have also been a topic of heated discussion within the Welsh Assembly and Cardiff Council.
A Welsh Government Bill aimed at restricting tobacco and nicotine product usage was rejected earlier in the year.
The Bill included actions such as prohibiting the use of e-cigs in 'enclosed and substantially enclosed public and work places', as well as ban the handing over of tobacco and e-cigs to people under the age of 18, failing by one vote.
Liam says, "I wouldn't use it in a school, I wouldn't use it in a hospital… there's a time and a place for it.
"An outright ban would be ridiculous," he says, explaining the importance of people cutting down on tobacco.
Despite negative impressions from the media, Liam believes that sales of e-cigs have not been affected.
About Post Author