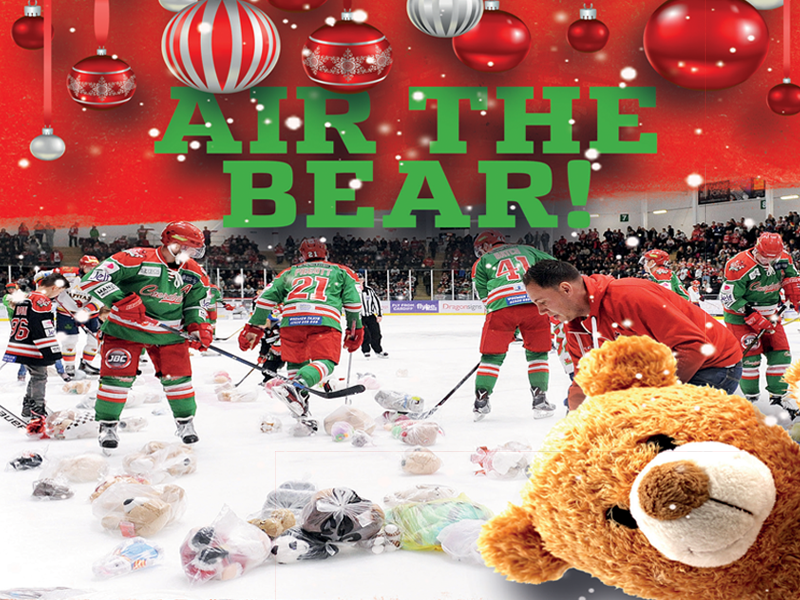 Cardiff Devils host their annual teddy bear toss on 3 December, where dedicated fans will hurl cuddly toys onto the ice

The Cardiff Devils play the Dundee Stars at Ice Arena Wales on 3 December and will collect soft toys for vulnerable and life-limited children during the Air The Bear promotional game.
The colourful deluge of plushy paddington bears, pikachus and beanie babies will rain down on the rink to be collected by players and the Junior Cardiff Devils under 11s.

Hundreds of soft toys will be donated to Ty Hafan Welsh Children's Hospice and [local homeless charity] The Wallich so that vulnerable and life-limited children will have toys this Christmas. More participating charities are set to be announced.

Air The Bear, an American ice hockey tradition, has become an annual campaign among the UK Elite League teams.

As part of the campaign Cardiff Devils players will personally visit participating charities to deliver the toys.

According to the Devils website, in 2016 players delivered toys to Bobath Children's Hospice Cardiff, Women's Aid Cardiff, Brynmenyn House Bridgend, Noah's Ark Children's Hospital, and Ty Hafan Children's Hospice.

Andrew Hotham, Cardiff Devils defenceman, said: "These kids battle through illness everyday of their lives and being able to deliver a bear to them to let them know that people are thinking of them is a fantastic feeling. It's also great to meet the hospital workers that have dedicated their lives to help these children."
Fie Adolfsen, Cardiff Devils Social Media Manager, said: "We are expecting an near sell out crowd against the Dundee Stars so we are anticipating a large number of donated toys."

To ensure that the children can receive brand new and undamaged Christmas presents, fans are required to wrap their fluffy toys in a clear plastic bag before throwing them onto the ice.
About Post Author