What's freerunning?
Directors of Fluidity Freerun Frazer Meek and Craig Robinson, demonstrate what parkour and the academy is all about:
If you think parkour is something you would like to try, you can find the academy here:
Unit G, St Catherines Park
Pengam Road
Cardiff
CF24 2RZ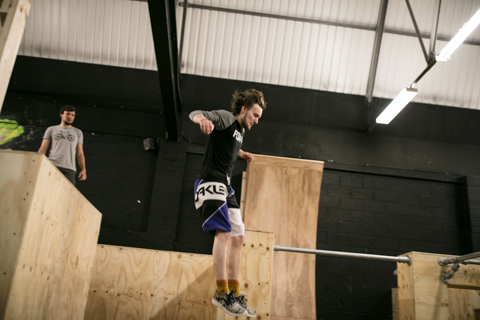 Hitting the wall is not a problem when training in Cardiff's only freerunning academy
People are running up walls and swinging from bars in Fluidity Freerun Academy, Cardiff's only freerunning academy.
Parkour, or freerunning, is a discipline developed from French military obstacle course training, where practitioners aim to get from one point to another in a complex environment as efficiently as possible, without using any equipment.
Freerunning can be a very creative way of maintaining fitness. Craig Robinson, 29, co-director and head coach at the academy, stated that people who start learning parkour don't realise they're getting fitter and stronger, because they see it as a challenge rather than exercise. He says, "You keep going until you've nailed the challenge and you feel good because you've nailed it! So really parkour and freerunning is born out of challenging yourself."
Craig explained the academy started as a team of friends who wanted to practice parkour. They started doing media performances and coaching work, ultimately leading to their ambition of building a space to teach and practise parkour. They were able to achieve this, he explained, by starting a crowdfunder to create a bespoke training facility within an old trampoline park, making it the ideal place to train with freerunners.
The team are able to utilise the space for a variety of different events, not just for freerunning. Otis Larkins, 23, one of the general managers at the academy, explaed that because of the amount of free floor and wall space, they can run music events and art exhibitions, creating something of a collaborative community. He says, "As we've got such an amazing space here we can even put on circus nights, where we have trapezes hanging from everywhere!"
What's freerunning?
Directors of Fluidity Freerun Frazer Meek and Craig Robinson, demonstrate what parkour and the academy is all about:
If you think parkour is something you would like to try, you can find the academy here:
Unit G, St Catherines Park
Pengam Road
Cardiff
CF24 2RZ
About Post Author