Fancy a game? Applications are still open: Online and PDF
The closing date for entries is the 5 December
Now, let's all cast our mind back to the nostalgic Whiff Whaff speech:
Table tennis was conceived in Victorian England as an alternative to lawn tennis for the upper classes. It made its Olympic debut in 1988 in Seoul, however team GB have yet to win a medal in the sport.
Table Tennis made its Paralympic debut in Rome in 1960.
Team GB's recent Paralympic medalists include: Rob Davies, Will Bayley and the Team class.
To get involved in Cardiff City Table Tennis Club then contact them here: Twitter, Website
Feeling inspired? Then Watch the England leopards tonight at 6pm on Team GB's FB page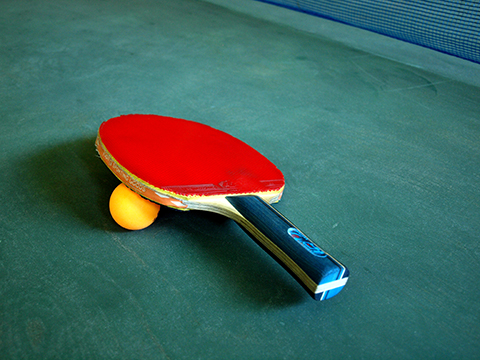 The Grand Prix is coming to Cardiff, but it's not all Ferraris and revved up engines – oh no – it's more table and er, tennis.
Table tennis is fast-paced, is lively and is on the rise in Wales. The proof for this is very much in the pudding, as Cardiff is hosting a weekend long event in December as part of the UK Grand Prix series.
The Satellite Grand Prix lands in Cardiff on 17 and 18 December. It's one of the eight events on the Grand Prix circuit and is the only host city in Wales. The event gives competitive players of all abilities the chance to face-off against similarly weighted opponents.
The tournament is spread across two days and hosted by the prestigious Sports Wales National Centre. As well as the competition element players are also given the opportunity to referee, allowing them to brush up on the legalities of table tennis in an energetic environment.
Ron Davies, the event organiser, has made the event highly inclusive for spectators too. He says that, "everyone is welcome free of charge."
The event is also fully supported by Cardiff City Table Tennis Club (CCTTC). Nathan Thomas, the club's head coach expressed excitement at the prospect of such a world-class event where both his colleagues and students will compete.
These hopefuls currently train at the club's home in Cathays, but are hoping to relocate to a new venue at the beginning of next year. This expansion on Newport Road will more than double their pitch space to a 16 table venue, where they hope more of Cardiff's residents will be enticed to take up the sport.
On site facilities also accommodate for wheelchair users and the club's coaching team have a plethora of experience teaching at the highest level of para-athletics, which given the Paralympic table tennis success is another point on the scoreboard for this club.
About Post Author