A contemporary circus
NoFit State's contemporary circus (otherwise known as a nouveau cirque) combines dance, music and film in order to convey stories and themes. This genre stems from the travelling community, and NoFit State aim to carry on this illusive style of entertainment.
On their website, the company have written, "The circus are the strangers who live amongst us – and if we run away to join them we are throwing off our inhibitions, our conventions, the rules of settled society. We are taking to the road knowing that there is no destination – only a journey."
Their event listings can be found on the NoFit State website.
[youtube]https://www.youtube.com/watch?v=uT4fOBPSF0k[/youtube]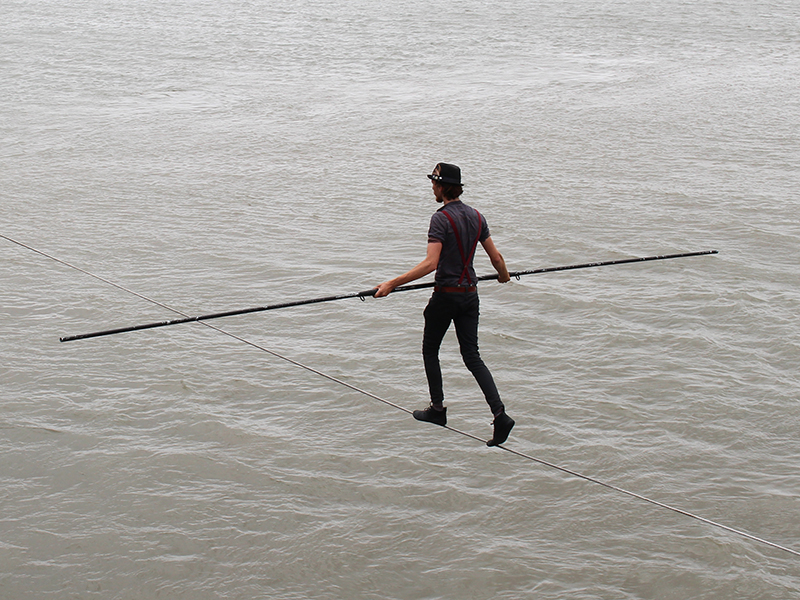 With hopes of raising money for their youth training programme, there's more than money on the line for Adamsdown's circus performers
The UK's leading contemporary circus has taken to the sky in an attempt to raise money for their youth training scheme.
NoFit State, a contemporary circus based in Adamsdown, has organised a sponsored tight-wire walk in order to provide extra support to children from low income families interested in running off with the circus.
As a registered charity, all of the money raised by NoFit State will enable local children to take part in a range of classes and workshops taking place in the company's center on Eden Road.
Anna Searle, development assistant for NoFit State commented, "We believe that children should have the chance to participate in circus as we have seen what an amazing impact it can have on the life of the children that take part."
In an effort to keep the cost of their youth program affordable, participants aim to raise £250 each towards bursaries while training alongside expert wire walker Ellis Grover.
Each high-flyer will work their way up the ranks (literally) before undertaking the 23-foot-walk inside the company's tent on 11 November. Anna commented, "With our big-top set up in Cardiff for the development of the new show Lexicon, this seemed like a perfect time and location to offer the opportunity.
"Having an exciting and fun activity to look forward to and improve at week-on-week provides a great sense of accomplishment. We have seen the long-lasting effects of this and it is massively important for us to make this accessible for as many children as possible."
This is not the first time NoFit State have organised a tight-wire walk, with their first sponsored event taking place in back 2013 and Ellis completing a 270m dare-devil stroll over Penarth pier this summer.
So far over £500 has been raised via NoFit State's Just Giving page.
About Post Author