Q&A with Daniel Morden
Daniel Morden is an award-winning professional storyteller and author.
What inspired you to become a professional storyteller?
"When I was a child, my dad used to sit at the end of my bed and tell me a story. I would listen to him reading. In storytelling there's something called a 'green-stalk' moment, when the main character travels to another place. As I listened to him, his voice brought me to another world.  Every time I stand up and perform I am trying to reproduce that feeling for the audience."
What was your favourite folk tale growing up?
"When it comes to myth, there is a moment when a character is told not to do something. I was fascinated by those stories. Suspense kicked in. It was only a matter of time before they do what they're not supposed to do. That moment that is common to all those stories hooked me."
What tips would you give to aspiring storytellers?
"There are story clubs all over Wales. Go along to one and listen to how others tell stories. I have two points of advice. One, find a story you really like; that speaks to you. Two, don't learn it off by heart. Let your life experience add to your story telling."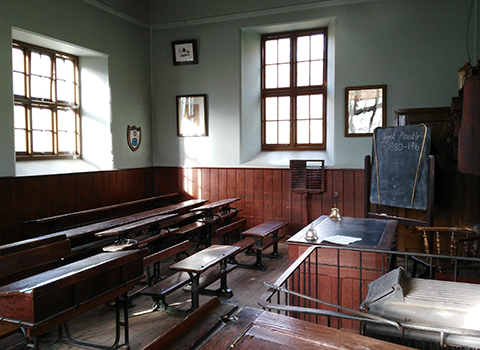 Are the traditional arts in Wales in their death throes, or are the recent cultural revivals around the country enough to resuscitate them?
It is often said that the past is like another country, that they do things differently there. In the case of Wales' past, they did things so differently they dressed it up, put a horse's skull on it and trotted it around town. But the Mari Lwyd, a harvest-time festival, is just one of the traditions that has fallen out of favour across the country.
A nation proud of its heritage, the current exhibition of Welsh myths and legends in the Senedd's Oriel Gallery is invocative of this patriotism. Today, national heroes take the form of people like Gareth Bale and Gethin Jenkins. But where does this leave classical heroes like King Arthur, who inspired our ancestors? Are their stories, and the bardic traditions that created them, destined to go gently into that good night?
The Eisteddfod influence
Fiona Collins, a professional storyteller, works with Lead Creative Schools. She says storytelling is flourishing. "Storytelling has been a lost art for quite a long time but it was never completely gone," she says.
The National Eisteddfod serves as the bastion for the traditional arts. An annual Welsh-speaking festival and competition, it attracts over 140,000 people. However, it has been criticised for being exclusionary to non-Welsh speakers.
That isn't to say that English-speaking Welsh people are excluded from their heritage. TRAC and Beyond the Border (BtB) aims to teach everyone about these traditions. BtB is a biennial storytelling festival, that invites local and international performers to their stage.
"They become well-known traditional stories because they have a degree of depth and truth to them"
Eirwen Malin, chair of BtB, notes that about half of its audience comes from outside of Wales. She adds that there is always a "core" of Welsh stories told through both languages, with about 10% of the festival's events spoken in the native tongue.
Eirwen is reflective on the arts' future. She sees them as a changing form. The stories will always thrive because they resonate. "They become well-known traditional stories because they have a degree of depth and truth to them. These ideas are just as true today as they ever were," she muses.
With a loyal audience of 3000, BtB will celebrate 25 years in 2018. It has launched BeyondStorytime.com to foster an appreciation of the art form in children. Eirwen is proud of the fact that children who attended BtB in its infancy now attend it with their own children. "My granddaughter is only five and she has been three times already!" she chuckles.
Something old, someone new
Not all is sunny in the traditional arts, though. There is less emphasis placed on teaching them in English-language schools. Daniel Morden, a professional storyteller, wastes no time in saying that the folk arts are dying.
Daniel attributes this to societal change. He explains that people generally lived in the same place where they grew up. "People don't live in the landscape the way that they used to. They get in their car and drive away to work or wherever they have to go to," he explains.
Daniel believes that for the folk customs to grow, there needs to be a curriculum change from higher up the ladder in English-language schools.
Osian Wyn Morgan, a student at Cardiff University, attended Welsh-language schools. They were Welsh schools both linguistically and culturally, he says. "During my education, it was Wales and Welsh, not English and Britain, that were the focus in every aspect of my school experience," says Osian.
The formalities of the Eisteddfod instill in its participants an appreciation for their arts. Pat Smith, folk singer and co-founder of the Llantrisant folk club, sees the benefit of this. "Youngsters grow up with the Eistedfodd and from there they diverse into 'our' folk style," she says with a grin.
It seems that, far from being in their death throes, the traditional arts are thriving. Perhaps the bardic traditions are like Blodeuwedd, they take the roots of something older and transform it into something new and suitable for this modern era. It looks like Wales' past has a bright future.
Q&A with Daniel Morden
Daniel Morden is an award-winning professional storyteller and author.
What inspired you to become a professional storyteller?
"When I was a child, my dad used to sit at the end of my bed and tell me a story. I would listen to him reading. In storytelling there's something called a 'green-stalk' moment, when the main character travels to another place. As I listened to him, his voice brought me to another world.  Every time I stand up and perform I am trying to reproduce that feeling for the audience."
What was your favourite folk tale growing up?
"When it comes to myth, there is a moment when a character is told not to do something. I was fascinated by those stories. Suspense kicked in. It was only a matter of time before they do what they're not supposed to do. That moment that is common to all those stories hooked me."
What tips would you give to aspiring storytellers?
"There are story clubs all over Wales. Go along to one and listen to how others tell stories. I have two points of advice. One, find a story you really like; that speaks to you. Two, don't learn it off by heart. Let your life experience add to your story telling."
About Post Author