Fancy a coffee?
Parc Pantry's cafes are dotted in and around the city centre. If you want to them, you can find their locations here:
Which is which?
Maybe you've always enjoyed coffee but can't tell the difference between a latte and flat white? Here's a little diagram that will explain everything: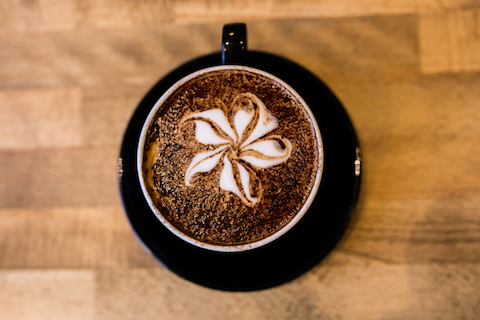 Newport experiences a cafe explosion as coffee percolates within the city centre
Coffee is everywhere. It has become so engrossed within modern society that it's simply unthinkable to go through the day without having your oh-so-essential caffeine hit. And who could blame you! Whether your preference is espresso, a single origin filter, or even a cool frappe, when it comes to coffee there is something for everyone.
Is it any wonder then, that there are so many coffee shops dotted around every high street? Even Newport, a city not exactly known for its caffeine indulgence, has recently seen a huge increase in cafes within the city centre.
Newport was hit hard during the recession back in 2008, losing around 6,500 jobs, causing many businesses to flee the centre, yet for some reason, cafes have not only survived, they have thrived.
One of the biggest and most recent success stories in Newport's cafe scene is Parc Pantry, run by business partners and coffee nerds Matt Ellis and Ant Cook. Over the past three years they have been able to open a new cafe almost annually, with their most recent cafe opening along the high street.
Each cafe is individual and unique, explained Matt, with each centering around a different theme; coffee for Parc Pantry, tea for Parc Pantry Tearooms and a cafe bar for Parc Central. The unique selling point of their first cafe, Matt says was, "Everything you could see in the store you could buy. Now it's become more food and coffee centred, and we've chosen to specialise in that area." Is it Parc Pantry's entrepreneurial approach and adaptability that has led to a coffee culture taking hold within Newport?
Old, but not forgotten!
But new, innovative cafes are not the only ones thriving; small, family run cafes have managed to survive the recession when big businesses were closing all around them.
Bar Piazza, a small Italian cafe and patisserie situated behind the recently developed Friars Walk, is owned by Angelo Attorre. He said they've been running the cafe for 17 years, and survived both the recession and the redevelopment. "We were basically in the thick of it," he states, "we were closed down for six weeks, but we were compensated for that." He reported that since Friars Walk has opened, business was definitely improving, and that he was seeing "new faces" all the time.
"What if cafes are no longer just cafes?"
People clearly love a cup of coffee, especially when it's made by professionals. The convenience of being able to pop into your local cafe, choose your favourite beverage, and sit and chat the afternoon away is appealing to virtually everyone. But is good coffee really the key to understanding Newport's coffee culture? Is it possible there's more going on here? What if cafes are no longer just cafes? Maybe the key to Newport's growing coffee culture is not about what you get from a cafe, but what you make of it!
More than a cafe?
Dan Ridgeon, a film-maker based in Newport, has made an office out of cafes. He's used cafes as a place of work for the last three years and he said it's by far the most enjoyable place to work as a freelancer. Dan says, "A cafe provides an environment where people are always present and a drink or a snack is never too far away. It gives any freelancer a great place to work that doesn't include a rent payment!" The recession hurt freelancers badly, making office rents unaffordable, but cafes seem to provide the perfect solution.
Cafes are not only places of work, they can also be places of worship. Christchurch Centre is a Newport based church that wanted to get into the heart of Newport's city centre, and were trying to think creatively about how they could do it.
Jon Roberts, assistant pastor at Christchurch, said they've been really excited to see the positivity and change surrounding Newport. They've observed a changing demographic moving into the city; young professionals who are attracted to the great house prices, thriving city centre and independent coffee scene. It's been their mission, exclaimed Jon, to reach, befriend and welcome this demographic by starting a new church service right in the heart of Friars Walk – Christchurch City Campus.
Christchurch City Campus (CCC) meets in Coffee #1 in Friars walk every Sunday evening for an untraditional church service. Jon believes, "This generation, to put it bluntly, are unlikely to set an alarm on Sunday mornings and drive across town to a big church building for a Sunday service. So we're bringing church to them!"
The welcoming nature of cafes lends itself perfectly to CCC's ethos, as Jon describes CCC as being, "Very informal and relaxed, placing a big emphasis on building community."
It seems that at the heart of Newport's coffee culture is community; cafes simply bring people together. The Parc Pantry boys understood this. They were able to create spaces like their cafe in Belle Vue Park, where Matt says, "It's very community based; there's always lots of things going on up there."
Coffee IS everywhere. That's likely never going to change. But how coffee has affected the high streets is a continuing process. So just remember, whether you take it black, white, espresso, filtered whatever, you're not just another customer in your favourite cafe. You're part of a vibrant culture. You're part of a community.
Fancy a coffee?
Parc Pantry's cafes are dotted in and around the city centre. If you want to them, you can find their locations here:
Which is which?
Maybe you've always enjoyed coffee but can't tell the difference between a latte and flat white? Here's a little diagram that will explain everything:
About Post Author