We asked the team what they most enjoyed about being a part of the Merthyr Luminaires.
Hayley Evans, Marcher, Merthyr Tydfil.
"I enjoy socialising every week and I have made lots of new friends. We also get to travel a lot, in August we went up to Newcastle. It also keeps the little ones off the street."
Conan Hathaway, Tym Toms (drums), Merthyr Tydfil.
"The band kept me off the streets when I was a bit younger and it's really enjoyable. I've made lots of new friends and I enjoy learning new music."
Samantha Thomas, Marcher, Merthyr Tydfil.
"It's somewhere for the kids to go. My little girl comes with me and runs around the place. It's very enjoyable."
Chloe Addiscott, Bell Player, Merthyr Tydfil.
"I come every week and we all work as hard as we can. It's so emotional when we win because we know how hard we have worked for it."
Cameron Fletcher, Leader, Merthyr Tydfil.
"It's something fun to do with friends."
Finalists:
Penywaun Paraders, Rhymney Coronets, Merthyr Luminaires, Blue Phoenix, South Cymru Sapphires, Swansea Silvers Rhythmaires, Cefn Fforest and Cefn Hengoed Majestics.
Contact the band:
£2 entry fee and under 5s go free.
To find out more about the band or to get involved, please like their Facebook page or email Rhian Lloyd Addiscott on rhiadd79@icloud.com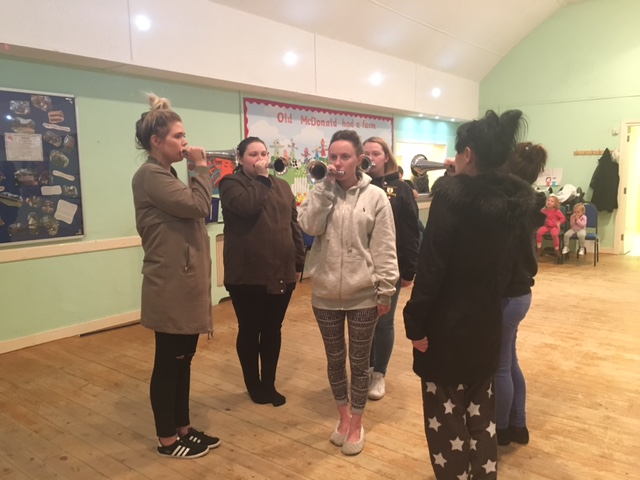 The Welsh National Indoor jazz competition returns this month and sees an all Welsh final.
On 20 November, Merthyr Tydfil Leisure Centre will host one of the biggest annual jazz competitions in the UK and for the first time in history, all 8 of the finalists are Welsh.
The competition brings jazz bands from across the UK to compete to impress the judges, who mark choreographed performances based on marching and musical quality. Each band can lose half a mark for every mistake they make; the team that wins is the one with the highest score by the end of the day.
Garfield Bishop (MBE) is the founder and president of the movement. The 87-year-old joined his first jazz band aged four and says most band members have been involved since they were children and so it becomes a "part of you".
Teams are charity funded and recently entrants have decreased due to a shortage of financial support. Garfield said that at one stage there was over 600 jazz bands in the UK compared to just 50 today and believes this is because children are more technically interested these days. Even though jazz bands seem to be becoming less popular, Garfield said, "All the close knit communities keep the movement alive." In fact, 12 of the 50 remaining bands are Welsh.
The Merthyr Luminaires – a jazz band formed in 2013 – came 1st place in their division at the World Championships in August, which was hosted in Newcastle. The band, consisting of 26 people of all ages, also won their most recent charity competition in Trecco this month. Ieuan Harris, who formed the musical group with his wife Linda, says he is confident this year after winning the World Championship. He added, "It's great. We have a lot of single mother's and children here who just love the band, that's why we do it."
Merthyr Luminaires practice once a week from 6-8pm, or twice a week when preparing for a competition.
The competition starts at 11am Sunday and will finish around 1pm. Garfield said that most watchers are family and friends but everybody is welcome and they will, "Enjoy themselves and see some great music." Spectators can expect to see "jazzy versions" of pop songs and colourful jazzy outfits, says Garfield.
About Post Author