What about a pre-concert talk?
Enjoy a fascinating pre-concert talk entitled, The Marvellous Mind of Mr Dahl onstage in the auditorium as Peter Morgan Barnes speaks with Michael Sheen, Bernard Kane Jr and Roald Dahl biographer, Donald Sturrock (author of Storyteller: The Life of Roald Dahl and Love From Boy: Roald Dahl's Letters to His Mother), who share their favourite thoughts, memories and insights of the iconic author.
Ticket info:
You can see all this with tickets still available from just £7
To book your seats, please visit www.stdavidshallcardiff.co.uk
or call the Box Office on 029 2087 8444
What's coming up this year?
Cardiff Philharmonic Orchestra's next concert at St David's Hall will be on Friday 9 December on the theme of 'Heroes and Villains'.
Includes the Welsh premiere of music from the most recent Star Wars film, The Force Awakens, along with Superman, Indiana Jones, Gladiator, Pirates of the Caribbean, Thunderbirds, Psycho, Those Magnificent Men in their Flying Machines and many more.
For more details on the rest of Cardiff Philharmonic Orchestra's season:
To learn more about the fascinating life of Roald Dahl: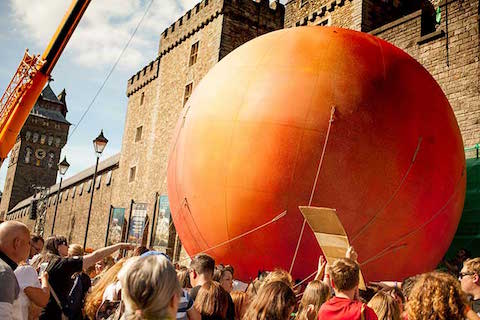 Roald Dahl's 100th birthday celebrations continue this month with what is set to be a 'gloriumptious' concert, starring Welsh Hollywood actor, Michael Sheen at the St David's Hall on Friday 21 October.  
Michael will be the guest narrator at the Concert of the unexpected: A celebration of Roald Dahl, including the world premiere of Mr Dahl. This work is based on the legendary author's whimsical life, and composed by the respected Welsh composer, Bernard Kane Jr. An enthusiast for the life and works of Dahl, he has also worked with the likes of the Manic Street Preachers and Bryn Terfel, to name a few.  
Sharing the stage with Michael are the Cardiff Philharmonic Orchestra and members of Only Boys Aloud. Michael Bell, conductor of the Cardiff Philharmonic Orchestra feels "very honoured' to be a part of such a big celebration. He added, "The chances of performing a world premiere are very rare, and to perform with a major film star like Michael Sheen, rarer still."
Michael Bell, hopes that this magical family concert will give younger audiences a chance to engage with classical music. They'll enjoy music from the film Charlie and the Chocolate factory, based on one of Dahl's most popular books, alongside, "Music that is in turn emotional, humorous, evocative and heroic", says Michael.
Following the success of Cardiff and the City of the Unexpected last month, Dahl's work is still loved today and as popular as ever. Neil Collins, assistant marketing manager for the event said: "Dahl's literature has provided so much enjoyment to so many people, it's fitting that we pay tribute to his legacy." He added, "It's important to celebrate the enormous creativity of Roald Dahl, and it fills us with tremendous pride as a city that he was born in Cardiff."
About Post Author