South Wales' hottest bands
"Everyone's proud of where they're from and we find inspiration in everything, and of course, being Welsh has influenced our sound massively. You can find inspiration anywhere, but we'll always be able to find inspiration at home, in Wales." The Marks Cartel spokesman
Listen to their new track on Soundcloud
"Welsh music and bands have been an inspiration throughout our musical backgrounds. Through the years we have seen local bands going on to be international successes. We have a thriving scene in wales and the valleys. We believe Welsh bands can achieve big things."
The Boom Sons  will be performing at The Rhonda Hotel, Porth, 29th Oct and Sin City, Swansea, 5th November.
Their new mini album 'Weird is The New Black' is released on 29th of October.
Professional gig audio at the Rhondda Hotel
Vespertine will be performing at The Metropole,2nd December, and The Dragonffli, Pontypool, 3rd December
"Music is about a colourful perception and making a connection with local people. The globalization of music has an effect on welsh music, everything is marketed and being taken over by artificial PR. You don't need to play in Newport or gwent, if you can play in your mind."
"The New Crown Inn and The Redhouse in Merthyr Tydfil are both massive hot-spots up the Valley, but Womanby Street in Cardiff is fantastic to play. We always support local bands."
Their funky tunes can be heard on Soundcloud
Venues recommended by local artists: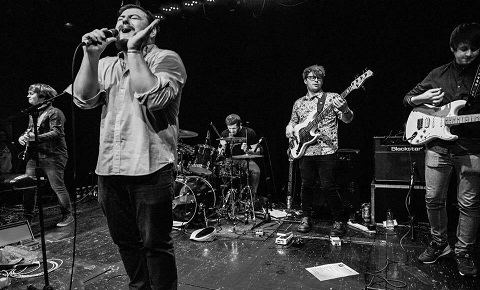 If you're an up and coming indie music artist in south Wales you're in the right place, a local band told alt.cardiff this week.
The transformed Welsh music scene lends a helping hand to aspiring local talent with fantastic venues, patriotic support, and a friendly repertoire of performers.
Funk and groove band The Moon Birds are proud, and grateful, of their Merthyr Tydfil roots, adding that the world is looking more seriously at the area as a musical hub.
The Moon Birds won the Big Gig Competition 2016 and studio time with Charles Francis (producer of worldwide sensation REM), among other goodies
"A lot of musicians in Merthyr gained prominence due to the 'Skint' TV programme filmed here," bass guitarist Sam Williams said. He added that the show about breadline families was a "blessing" in a sense. "People took offence and started a small 'anti-Skint movement.' Part of this was the music scene. Starting out in Merthyr should have been disadvantageous – no money, no industry – but it helped us start penning songs."
Even south Wales's inhabitants prove a popular topic. The Moon Birds deviated from writing about poverty and unemployment, and instead wrote optimistic songs about local people they knew.
Sam chuckled, "We've always been a bit more into telling a story rather than complaining."
Vespertine's lyricist and guitarist Matt Galloway also found inspiration in Wales' culture. "Gwent is an easy place to get going musically," Matt said. "There's lots of musicians you gravitate towards. What I've found now is common camaraderie within local bands – we all watch each other's backs, we network."
Vespertine have only been recording for a few months, but their lyrical mentions of 'Hiraeth' strike a chord with locals
Matt encouraged Welsh bands to tour internationally and earn a world-wide name – but fundamentally, to remember Welsh roots.
Both bands highlight the importance of Welsh musical tradition and belonging in their music.
Matt said, "Looking at the mountains, I feel protected.  I can go to the top, look down at the Valleys, and sing my heart out."
About Post Author