In light of this internationally renowned exhibition returning to the centre of Cardiff, members of the public answered the following question.
How important is art in Cardiff?
Jack Jones, 18, student, Llanelli
"You don't tend to hear about much of it in Cardiff really. How important is it? It is important, don't get me wrong, but I don't think it's important in Cardiff. I haven't heard much of art in Cardiff, anyway."
Patrick Kosch, 38, working for Cardiff University, Cardiff
"Its hugely important. Things like Artes Mundi which they've had here are really important for the city and, you know, brings visitors in. I think generally a successful city is one that has a flourishing art scene. So yes, it is very important."
Eileen Williams, 67, company director, Cyncroed
"I think it is very important because our National Museum has got lots of very famous artwork and I think people come from elsewhere to see that artwork. I think it's very important and I think our museum really does attract a lot of attention."
Sue Jones, 54, senior nurse, Aberdare
"I think art is very important. I think people in Wales particularly enjoy the availability of art and I think Cardiff is the centre, it's the capital city. Its very available and I think the choice is very good. I think the Roald Dahl stuff they did was incredible."
Nigel Hallett, 65, retired, Michaelston
"Generally I suspect art isn't at all important in the lives of people in Cardiff which is a shame. I suspect they probably care more now than they used to because art is more intrusive in people's lives. I would like to think that's the case but I'm not terribly optimistic in Cardiff and I've lived here for 46 years."
Ashley Townsend, 24, working in hospitality, Whitchurch
"I think its kind of important anywhere, not necessarily specifically Cardiff. I think if you don't have art, everything's dull, its meticulous, it's a step by step day. Art breaks that up and gives you something else to experience. Art adds that layer to it."
More information
For more information about Artes Mundi itself or any of the events taking place from 21 October to February 2017, go to Artes Mundi or National Museum Wales.
For profiles on the artists competing to take home the £40,000 prize, click on the names below.
Amy Franceschini / Future Farmers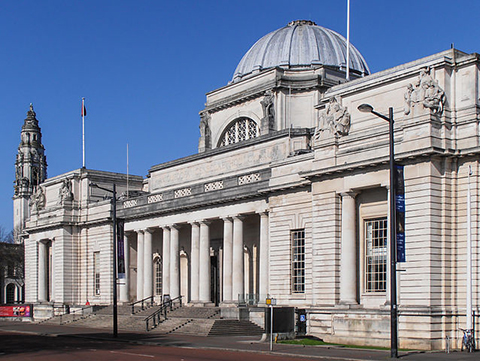 The UK's biggest art award returns to Cardiff this year with six artists competing to take home the £40,000 prize.
Artes Mundi is a competition with an international focus. There is no restriction for entry but in order to progress artists must engage with the human condition, often tackling global social issues through forms of contemporary visual art.
Making Cardiff its home since 2004, this exhibition is the largest of its kind in the UK, offering greater reward than even the Turner Prize. Jane Hughes-Wynn, who works with Artes Mundi, says, "There has been much comment in the past about media and culture being very London-centric, Artes Mundi and organisations like it help to show that culture can and is succeeding across the UK." Evidently it is particularly strong within the cultural community found in Cardiff.
Building on this Iwan Llwyd, from Arts Council Wales who provide some funding  for this exhibition, makes clear that now is precisely the time to be supporting the arts as Artes Mundi makes real and practical contributions to the economic, social and cultural life of Wales.
Artes Mundi are determined to see people engage with contemporary art and so over the course of the exhibition, from 21 October, there will be opportunities to get involved with tours, creative sessions and family workshops. Also working on a project exploring regeneration in post-industrial South Wales valleys, the team behind this prize aim to empower the disempowered through art within communities.
Making this year's shortlist are artists from across the globe, including welsh multimedia artist Bedwyr Williams, Ghanian born filmmaker John Akomfrah and award-winning French-Algerian artist Neil Beloufa.
With the prominence of this prize in mind, and figures from Art Council Wales indicating that 78.6% of adults attend at least one arts event annually, we took the streets to see how important art really is in Cardiff.
About Post Author