Small Bar's Location
Extra Info
Small Bar's beer and cheese nights normally fall under one of two categories. Some are like this one, where beers from a specific brewery are showcased, while others use beers from a variety of producers.These non brewery specific events are often given amusing names, like 'Beer & Cheese II: Electric Boogaloo', or 'Beer & Cheese III: The Difficult Curd Album.'
Richard Jones sees the events as an opportunity to promote local businesses and independent produce. He said, "Independent producers should be cherished and encouraged. If, after coming to one of our events, you go and buy your cheddar from somewhere like Cheese Pantry rather than a supermarket, or you opt for the small scale producer on the taps in your local pub, over a Guinness or Carling, then you've helped those breweries and cheesemakers to keep producing, learning and experimenting."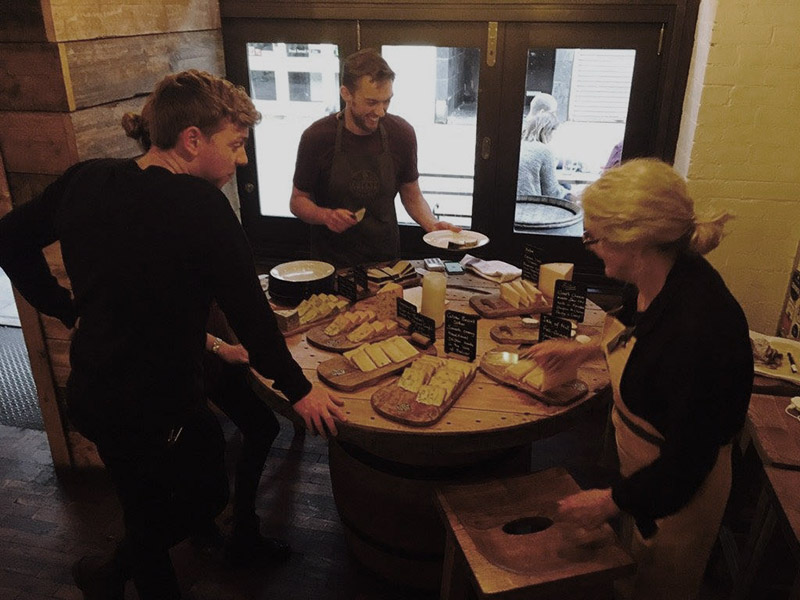 At the latest iteration of the city centre bar's cheese and beer nights, punters can pay £15 for four beer and cheese pairings
Small Bar is to host the latest in its series of cheese and beer nights on Thursday 7 December.
In what is the 7th iteration of the event since the city centre bar opened in October 2016, punters can pay £15, plus a booking fee, to try four pairings.
The event promises a "cacophony of collaborative craziness and pairing perfection," and is open to both fanatics of beer and cheese and those with no expertise whatsoever.
Richard Jones, who runs the events and is Small Bar's assistant manager, is particularly keen to highlight the night's accessibility.
He said, "these events are not just for beer nerds and we don't expect you to have a Cicerone certification to understand the beers you have in front of you," adding that "it's an entirely inclusive and open-minded forum for discussing the pairings and just chatting about beer and cheese in general."
As with the previous versions of the event, the cheese will be provided by The Cheese Pantry, a local cheese stall situated in Cardiff Market, and on this occasion the beer will be provided by Siren Craft Brew.
Each beer is matched with a cheese that complements it in terms of  flavour, aroma and texture. And although Richard says the staff normally agree on the combinations, there are also times when they disagree completely.
These often prove to be the most interesting pairings, since, as Richard puts it, "what better way is there, to get people engaged and give us a new perspective on it, than when they're having a healthy disagreement?"
Since the first beer and cheese night, the attendances have steadily grown, and around 40 people are expected at the latest event. Given that Richard was initially unsure if there would be much demand, this is surely proof that the venture has been a success.
Small Bar's Location
Extra Info
Small Bar's beer and cheese nights normally fall under one of two categories. Some are like this one, where beers from a specific brewery are showcased, while others use beers from a variety of producers.These non brewery specific events are often given amusing names, like 'Beer & Cheese II: Electric Boogaloo', or 'Beer & Cheese III: The Difficult Curd Album.'
Richard Jones sees the events as an opportunity to promote local businesses and independent produce. He said, "Independent producers should be cherished and encouraged. If, after coming to one of our events, you go and buy your cheddar from somewhere like Cheese Pantry rather than a supermarket, or you opt for the small scale producer on the taps in your local pub, over a Guinness or Carling, then you've helped those breweries and cheesemakers to keep producing, learning and experimenting."
About Post Author