Colourful questions to get to know Warren
Are you a cat or dog person?
"I like both. I used to hate cats until I owned one."
What are you afraid of?
"Cockroaches, I hate cockroaches. They are vile and horrible."
What's your favourite meal?
"Steak and chips with the steak cooked medium rare."
Have you ever met anyone famous?
"I met prince Charles when I was 12. He opened a nature reserve back home in Bridgend and he shook my hand."
When was the last time someone
made you smile?
"People make me smile a lot, whether it's in despair or joy."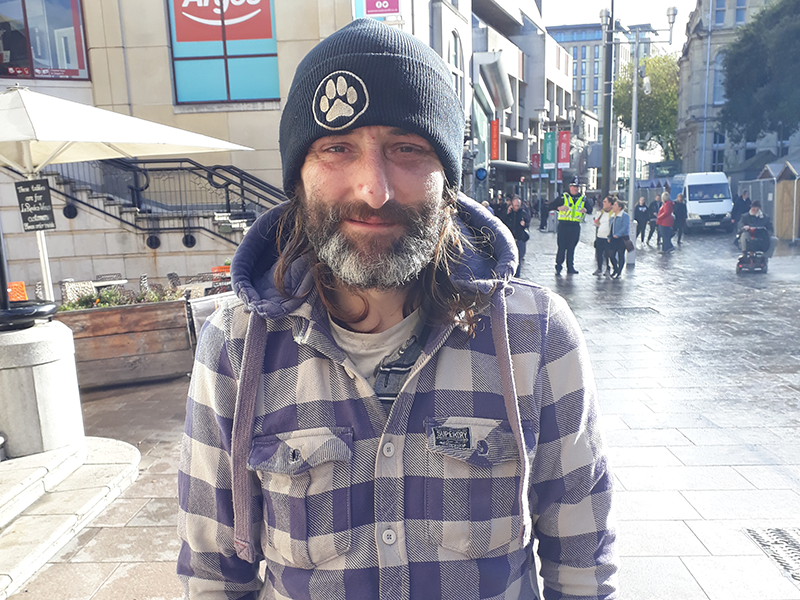 The homeless man who can be heard livening up the city's streets with his singing and guitar playing for the passing crowds
Amongst the hustle and bustle of the busy Hayes high street, you may hear a faint melody in the background that will catch your attention for a just second.
That sound is most likely to be a busker, and one of the many to be found on this street is 46-year-old Warren Jewell.
Originally from Maesteg, Bridgend, Warren is a homeless busker who earns his living through playing his guitar and singing on the streets to passersby, who he relies on for money.
"I've been homeless for just over a year," Warren explained, "I was renting privately in Hereford and my landlord put the house up for sale so I had to move out. I came back to Cardiff thinking I'd find a bed and it's been more difficult than I'd envisaged."
Making it on his own
Despite having family close by, Warren is determined to get back on his feet without having to turn to them for help.
"My folks are in Bridgend, but I'd rather do my own thing, do things myself" 
Warren explained that, though he's lived in a lot of places, he tends to stay in Cardiff because, "It's a resourceful place" and it generally has a good feeling compared to other places he has lived.   
Before he became homeless and before his divorce, Warren was a civil engineer working on the motorways in the south west of England.
But now he earns his living through playing music on the streets.
Playing for the people
Having played the guitar since he was 18-years-old, Warren enjoys playing blues and jazz from some of his favourite and most inspirational artists such as Amy Winehouse, Ella Fitzgerald and Frank Zappa.
"They're not necessarily stuff I would play when I'm busking but it's what I like. When I'm busking," Warren continued, "I normally do Pink Floyd or Otis Reading or Gnarls Barkley. I try and play to the crowd that's around me, depending on age brackets. So if there's older people around I'll do older songs."
Ambition and recognition
As with anyone living on the streets, Warren's future ambition is to be rehoused, which he says will then hopefully lead to him earning money through official gigs.
"Brains Brewery have offered me work to play at local Brains venues, so that's £140 a gig, but I can't do that until I get back into a house. I can't play a gig then go back to sleep on the streets. So when I get housed I'll be giving them a ring."
Despite being limited to performing on the streets, that hasn't stopped Warren from gaining the attention of broadcasters.
"I've been on Swiss television and Japanese television and Channel 5 did a fly on the wall with me around Cardiff. I haven't seen it, I don't even know if it's been aired but they certainly spent a good deal of time with me. They filmed me busking and going to appointments at the job centre."
Colourful questions to get to know Warren
Are you a cat or dog person?
"I like both. I used to hate cats until I owned one."
What are you afraid of?
"Cockroaches, I hate cockroaches. They are vile and horrible."
What's your favourite meal?
"Steak and chips with the steak cooked medium rare."
Have you ever met anyone famous?
"I met prince Charles when I was 12. He opened a nature reserve back home in Bridgend and he shook my hand."
When was the last time someone
made you smile?
"People make me smile a lot, whether it's in despair or joy."
About Post Author