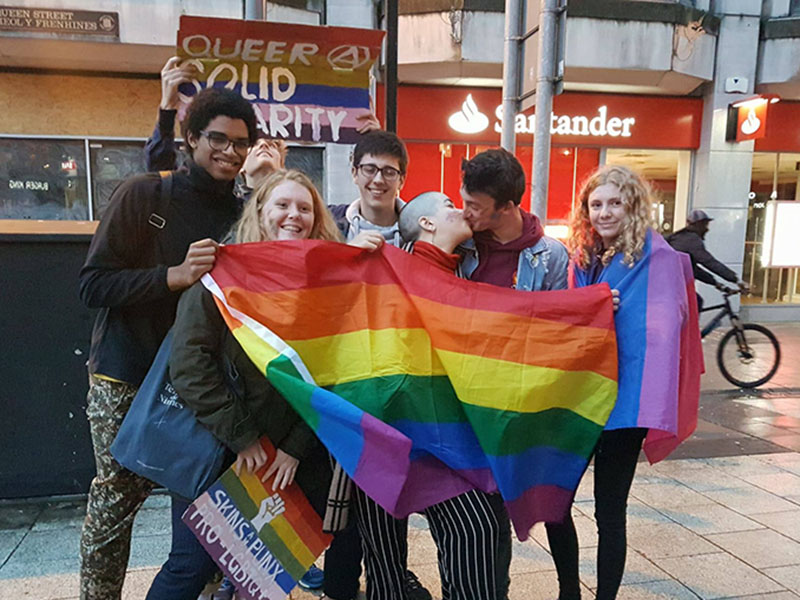 Over 50 people joined to protest the arrest of LGBT supporters in Cairo
LGBT members and allies banded together on Queen's Street last Tuesday to protest the ongoing persecution of homosexuals in Egypt.
Standing below a statue of Aneurin Bevan, the crowd stood in solidarity to promote a petition calling for the release of at least 71 people who were reportedly detained for flying a rainbow flag during a concert in Cairo.
The protest was organised by Shroukie El-Masry, a 25-year-old student and LGBT writer who was forced to flee their home country of Egypt due to their sexual orientation.
Although Shroukie is aware that they can do much more to promote the rights of LGBT in Cardiff, they expressed a feeling of guilt over not being in Egypt to support those in need. "Some of the people who have been arrested in Egypt are people I know. It's a bit of a guilt trip really because it feels like I've abandoned them," Shroukie said.
El-Masry explained that it is important for the LGBT community in Cardiff to recognise their privilege within society, and that everyone has a responsibility to make sure security can be experienced by gay people worldwide.
The peaceful protest, which was one of many carried out across the world, combined Egyptian music and dancing with speeches about LGBT discrimination to highlight the need to support the people of Cairo.
The petition was passed through the crowds by Alamendra Kovac, who came to the event to highlight the discrimination of LGBT members within different societies.
"Sometimes I really forget that it's not okay to be any kind of LGBT person in Egypt," Kovac said, "so it's really important that people come to events like this and show that we care about the people of Egypt and support their cause".
The petition has now been signed by more than 48,000 people worldwide.
About Post Author