More voices across Cardiff
Protests and demonstrations are popping up all over Cardiff. Just last week, we reported on a protest against the new M4 relief road in Newport.
Here are some other causes you may want to lend your voice to:
Left Outside Alone
These peaceful protesters are using their voice for the voices that are ignored. In this case, it's for the homeless.
The group say: "This is a peaceful protest about the rising numbers of homeless sleeping on our streets and the continued taking of their sleeping bags and belongings."
They are meeting by the Aneurin Bevan Statue, Queen Street on 16 December 2018.
Yes is More
A collection of some of Wales' most influential music artists have just announced a night of music for 'Yes is More', a campaign for an independent Wales.
Some of the artists include:
Charlotte Church

Welsh Music Prize winners Boy Azooga

Super Furry Animals

Astroid Boys

Gwenno
Their aim is to stimulate the debate calling for Welsh independence, and will take place on 15 February 2019 at Tramshed.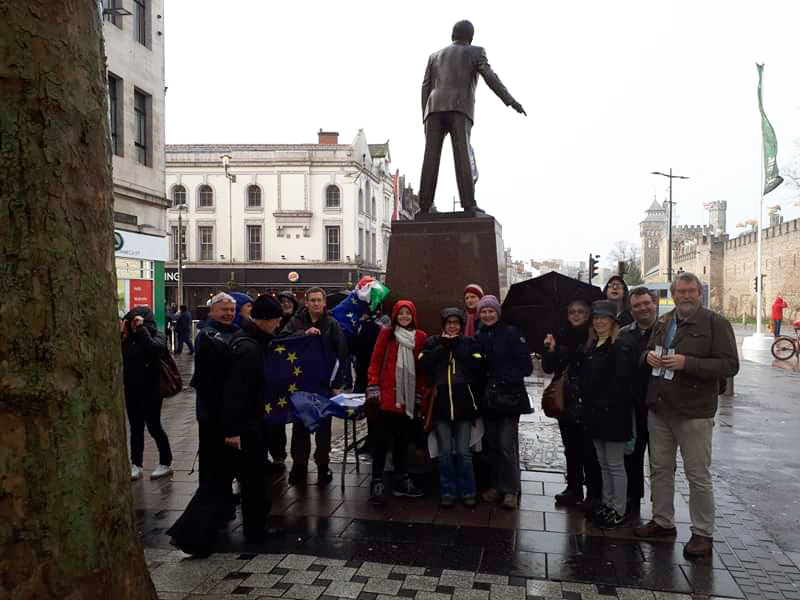 An organisation is using its collective voices to campaign for a second Brexit referendum and maintain a pro-Europe stance in the capital
A pro-Europe organisation based in the capital is campaigning for a People's Vote on the current Brexit deal.
Cardiff for Europe is a grassroots, cross-party collective aiming to maintain a pro-Europe voice in the city. This is particularly important to the group as Cardiff was one of only five Welsh constituencies to vote Remain in the 2016 referendum.
The group hold regular events to drive their movement, such as leafleting across the city, setting up street stalls and taking part in parades.
Most recently, the group took to Queen Street to be part of the UK-wide People's Vote Day of Action on 8 December.
"It involves meeting members of the public and discussing their views on Brexit," says website coordinator, Chris Lewis. "Some support Remain, while some support Leave. We try to enlighten those Leave supporters to show Brexit will be bad for Britain."
The group is part of the larger Wales for Europe group, which extensively uses the hashtag #NidEinBrexit (#NotMyBrexit) to rally for a People's Vote on Brexit.
The most recent Brexit deal proposal received particular criticism from MPs and AMs across the country for failing to mention Wales at all in its 585 pages.
In this regard, the work groups like Cardiff for Europe do within the city and across Wales is a way to ensure their voices and views are heard, despite feeling completely left out of all considerations.
The group's work on pushing for a second referendum has been vindicated by news that the European Court of Justice has ruled the UK can rescind its decision to leave the European Union.
On the same day, Prime Minister Theresa May deferred the Meaningful Vote on her latest Brexit deal which was due to happen today (11 Dec).
Cardiff for Europe prides itself on being a welcoming and all-encompassing group of people with a singular aim, and credits working together as something that makes their work worthwhile.
"I think working as a group is a case of the whole being greater than the sum of the parts. You get a much bigger impact working as a group rather than a group of individuals doing their own thing," explains Chris.
"I think group events make a difference," he says. "If nobody did anything then politicians think people accept what is being proposed."
Groups like Cardiff for Europe exemplify the kind of content you can find in the first issue of Diff.Voices.
Amplifying the voices of Cardiff and South Wales, the minimag aims to give people the chance to have their stories heard, as well as help others find the best ways to support a cause, seek advice and be inspired by like-minded people in their area.
The first edition is available online now:
About Post Author