Have you ever used Deliveroo?
To ride with Deliveroo, get fit and earn cash, apply here.
Top 4 cycling tips this winter from amateur Welsh cyclist Andrea Hopwood, 44, Anglesey:
1) "Wear padded gloves and shorts to prevent vibration as the points of contact can cause pain."
2) "Cycling is brutal in cold months, so I'd recommend a face protector to cover your ears and head."
3) "I can't express enough the importance of safety. Luckily the Deliveroo jackets are high-visibility in the dark, but front and rear bike lights can seriously prevent collisions and accidents."
4) "If your muscles are feeling sore from exercising in the cold – foam roll, foam roll, foam roll!"
Nutritional advice for cyclists from NHS Dietician, food psychologist and dietetics expert Eleri Jones:
"It's not about 'the best food for cyclists' per se – there's no such thing as the best single food.
"Cyclists must ensure they have enough energy to constantly pedal, so high fibre and carbohydrate foods to keep the body fuelled in the cold are the best. Recommended foods such as flapjacks, oatcakes and bananas help release energy slowly.
"When you're not cycling, it's all about maintaining a balanced diet with all food groups – especially protein."
Read more about Welsh Cycling at The British Cycling Federation website.
To become a 'fitter, faster, better' cyclist, learn more from Bike Radar.
Visit Road Cycling UK to improve your cycling – take on more orders and get more cash!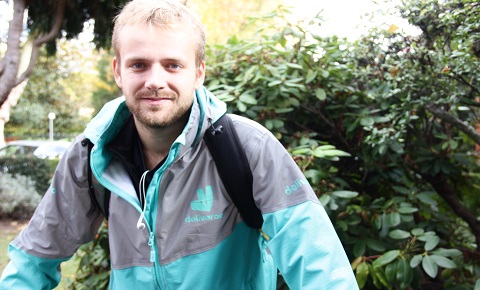 alt.cardiff hears how cycling can benefit the body – and wallet
The food service Deliveroo brings restaurant food to customers' doors and is on the rise in Cardiff after more people are taking to their bicycles to earn wages and fit in an effective workout.
Cardiff Deliveroo cyclists this month praised the company's "independent contractor" standard which allows employees to work for a few hours during university or work breaks as self-employed deliverers, in effect.
The £130 million company Deliveroo said that they currently employ 3,000 deliverers, and with the increase in independent employment and use of navigational apps, they hope to welcome even more deliverers by 2017.
With orders peaking during lunchtimes and evenings, students and young professionals who want to exercise can get fit and earn extra money during their lunch break or after work.
I want to ride my bicycle
Clement has been cycling for Deliveroo for 13 months and enjoys combining employment with exercise on Cardiff's flat, cycle-friendly roads. "I work at an insurance company on Queen Street 9am-6pm, five days a week," said Clement, 24.
He added, "I don't have time for the gym like I did at uni. But this is a good opportunity to earn cash and keep active." Deliveroo cyclists can earn between £65-£110 per week for 9-15 hours (3-5 shifts) of work.
It also saves on a gym membership, as Clement said, and having to work a shift is apparently a good motivation to workout even when feeling tired or lazy.
Wheelie good for you
Personal trainer Daniel Hough, 26, said cycling is as an effective cardiovascular activity especially if you cycle for more than 150 minutes per week. As one Deliveroo shifts consist of 180 minutes, an average week's worth of three shifts is certainly beneficial, said Daniel.
Daniel said cycling is great for the joints. "Because there aren't any forces travelling through the joints," he said, "they'll last longer and work longer later in life."
Deliveroo cyclist of 10 months Jonjo Payne, 19, said that nutrition is crucial to keeping up energy. "When you're delivering food all night," said Jonjo, "all you can think about is your own huge dinner after!"
About Post Author