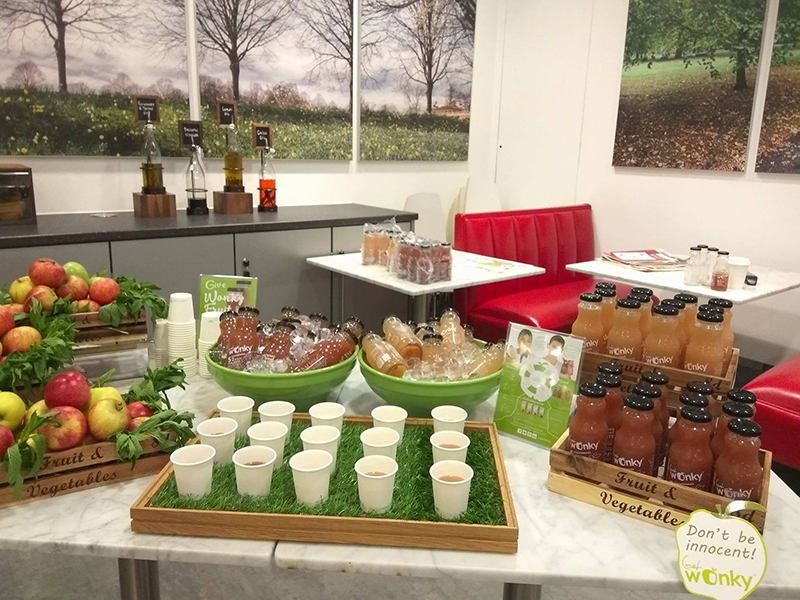 The growing amount of fruit and vegetable waste inspired two young entrepreneurs to open a juice company  
Two young entrepreneurs set up a juice company in Cardiff to tackle the challenge of fruit and vegetable waste.

Karina Sudenyte and Maciek Kacprzyk, founders of Get Wonky, were inspired to set up their business after attending the Love Food Hate Waste campaign in Cardiff last year.

Their aim is to produce sustainable juice drinks by using fruits which would normally be thrown away because of their irregular shape and size.

"We saw the advertisements saying that every day we discard over 4m apples where retailers are not happy with the certain shape and standard of fruits and vegetables," said Maciek.
According to the Food and Agriculture Organisation of the United Nations, one third of global food production gets wasted, with fruits and vegetables having the highest rates of wastage.
Maciek said they paid farmers 70% of the market price for their produce which means growers would not need to dispose and pay for the disposal of the fruits and vegetables.
He said their main target was to help farmers grow their sales and save as many fruits as possible.
By saving wasted produce that can be edible, they are able to produce 100% sustainable and natural juice.
Since May this year Get Wonky saved 85 tons of fruits and vegetables. The juice company's ambition is to save 150 tons by the end of this year and 3,000 tons in the next three years.
Maciek said their team consisted of five people now and they hope to reach nine people by February next year.

"The ultimate goal is to be a national company," he said. "We are ambitious enough to expand outside of the UK next year."

Last week the juice company won the NatWest Great British Awards in the category for young entrepreneur of the year.


This story was updated on the 12 November to include more recent figures from Get Wonky.


About Post Author