For more information and for opportunities to book the band, visit:
http://www.wonderbrass.org.uk/
Upcoming gigs to watch out for:
| | |
| --- | --- |
| 26.11.17 | Barry Ice Central rink opening, Barr |
| 08.12.17 | Gwdihw, Cardiff |
| 08.12.17-09.12.17 | St Fagans, Cardiff |
Check out some of their music: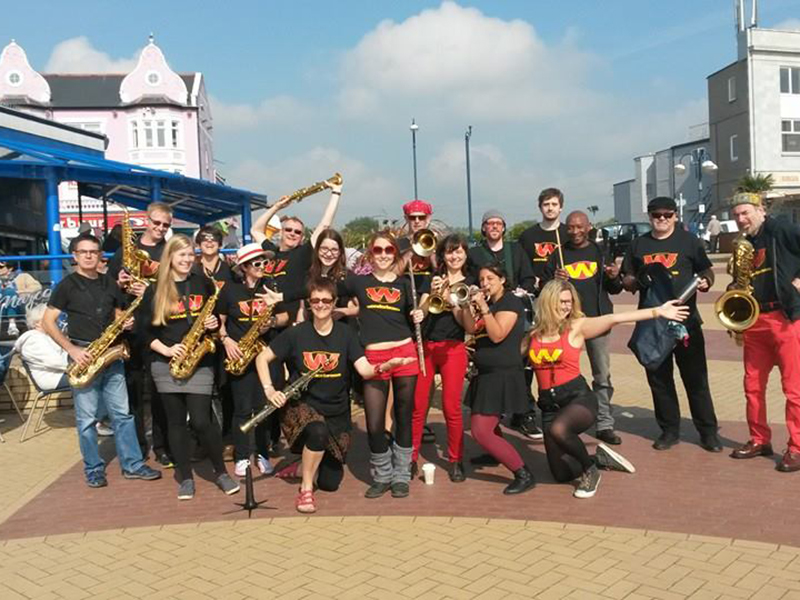 South Wales's biggest brass band celebrate their 25th anniversary this year with a variety of projects including gigs and documentaries
What began as a 10-week workshop in the South Wales Valleys in the early 90s turned into a 25+ member brass band: the Wonderbrass story.
Describing themselves as an 'explosion of sound that brings in a mixture of New Orleans jazz, ska, funk and fun', Wonderbrass are now celebrating their silver jubilee.
To commemorate, the band have brewed quite the concoction with a number of gigs planned. Starting off with a gig at The Gate Arts Centre, the band plans on making a few short films, writing and performing new material and running musical storytelling workshops.
Another ingredient of their concoction is a series of interviews of current and past members of the band, which will then be turned into stories. Baritone Saxophonist Hannah O'mahoney says, "We're getting some guest musicians who have worked with us before, we're going to commission them to write us some pieces. And we are going to try and bring back as many of our old members as we can, trying to get them involved in the project- Wonderbrass25."
Artists they have played with before include Amampondo, Claude Deppa, King Django and Jason Yarde, who they played with for the Cultural Olympiad in 2012.
Wonderbrass was the only Welsh organization that was chosen to participate.
When asked about the festivities, Clarinettist Jim Barrett who has been with the band from its very beginning had this to say: "We're mostly trying to do some new material, and getting people who have been here before to come back and stay for the celebration, that's the big idea really."
Wonderbrass's collaborative, multimedia performance project is supported by the Heritage Lottery Fund. The aim of this project is to portray how local heritage can be a catalyst for different activities and can bring people together for a common cause.
About Post Author