Why has Fabric re-opened?
Fabric has re-opened its doors on the basis that strict licensing conditions apply. Anyone wanting to enter the club must now be over 19 years of age, have their ID scanned and a life-time ban for anyone caught using drugs.
Why has the number of clubs in the country drastically declined?
Licensing boards and local councils are hammering down on clubs and enforcing earlier closing times
Noise complaints – Anyone close by can complain to the Council about noise
Drug use – A contentious issue which has cropped up for many clubs including Fabric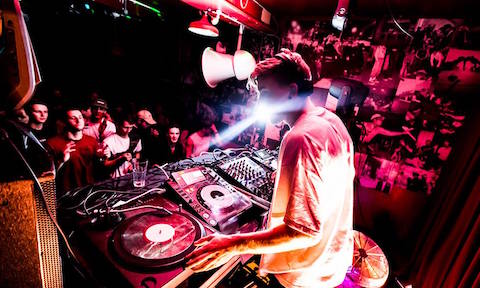 Underground music venues in and around Cardiff may need to re-think their strategies as as they could be in danger of closing down
An array of underground music venues in Cardiff open their doors to electronic music lovers as the sun goes down and Cardiff's youth get ready for the night's descent. Featuring various genres such as house, techno and drum and bass, experimental and passionate DJs take the stage to enchant the crowd until they're lost in the music.
Fabric, one of Britain's best known night clubs has recently re-opened its doors to eager London ravers after Islington Council revoked their license earlier this year. The club originally closed following the drug-related deaths of two young men which has prompted concern for the future of the UK club scene; Including underground music event co-ordinators and club owners in Cardiff.
In an annual review issued by the Office for National Statistics in Newport, it was concluded that in in recent years the number of night clubs in Britain has declined, with many high profile closures. Consumer price index statistician Phil Gooding believes that the number of night clubs that don't charge entry fees is the reason so many clubs are closing.
Furthermore, the Association of Licensed Multiple Retailers (ALMR), who examine the latest issues affecting licensed hospitality reported that the number of clubs across the country has dropped by almost 50% since 2005. Kate Nicholls, CEO of the ALMR explains, "Our thriving nightclubs are increasingly finding themselves at risk of closure because of voracious local authorities.
Pointing the finger
New, 'upmarket' club Platform 11 has recently opened its doors to breathe life in to the Valleys club scene and cater to underground music lovers in South Wales. Owner of Platform 11, Craig Mead believes Cardiff has many successful underground music events and venues such as Memorax and Delete and aims to host equally successful nights. However, Craig has experienced problems with the Council regarding referring to the club as an 'underground venue.'
Craig explains, "I think the whole industry was shocked when Fabric closed because it's been such an institution for many people including myself!" He continues, "If this can happen to such a big club, it makes me less confident there is still hope for the rest of us."
With many clubs turning the lights on for the last time in recent years, it has led to people blaming their local councils for the decline in underground music venues and events. Cardiff DJ Alex McDonough says, "The reason underground clubs are in danger of being closed down is because there is extreme pressure being imposed by and local councils and other governing bodies. He continued, "It would worry me if the council were on my case, especially after what happened to Fabric."
A narcotic debate
The use of MDMA in the last year significantly increased among 16-24 year olds in surveys taken in resident households from the Crime Survey for England and Wales (CSEW). The figures which were published by the Home Office stated that the use of ecstasy rose from 3.9% to 5.4% in one year; which is an increase of 95,000 people. Following Fabric's brief closure, more clubs in the UK, including Cardiff may be in danger of being closed down if inadequate drug policies spark concerns from the police at their events.
"Excessive drug use plays a big part in the decline of underground events"
Cardiff drum and bass DJ Elliot Crawford says, "I do think excessive drug use plays a big part in the decline of underground events." He continued, "people that organise underground events need to take extra precautions so they don't risk being closed down or even worse, risk people losing their lives."
An uncertain future
On Cardiff's high street and villages surrounding the city, underground events range from big to small; successful to unsuccessful and forgettable to unforgettable. As DJs aim to win over their crowds, tame the dance floor and get the publics support, a bright future for Cardiff's underground scene is still possible.
Alex says, "You need to work exceptionally hard to promote events in underground venues." He continues, "With the public and councils support, there is still a possibility for a bright future for the underground music scene in Cardiff."
Joey Pearson, Co-founder of City Bass, an underground music event in Cardiff says, "Although I believe the underground scene in Cardiff will always be alive and well, I do think we need more underground venues in the city which have the capacity to hold big underground line ups."
As it stands, Fabric re-opened on the basis that only people over the age of 19 can enter the club and tighter security measures have been enforced. Nick Saunders, co-founder of Shangri-La, a house night in Cardiff, believes that it will be a win-win situation if licensing for underground events becomes easier and better security measures are enforced. "Licensing has become a massive issue and we need support in order to be able to ensure Cardiff's underground music venues stay alive," explains Nick.
About Post Author