To check out what others are saying about Hogwurst
For more mouth watering pictures of hotdogs
Q and A with Hoa:
A cult favourite of yours?
"Spam sticks with sweet chilli dip served in a little Spam tin."
How do you keep costs down?
"We work very hard to keep wastage down and working as efficiently as possible."
Any upcoming deals?
"We always have a 10% discount to students and every Wednesday our milkshake and fries deal which is very popular."
Why did you start the restaurant in the first place?
"At the time we opened there was a surge in restaurants offering street food and quite a few places opened offering gourmet burgers and burritos. We felt bad for the under'dog' who has in the past been abused and pushed aside. Way too often if you wanted a hotdog it's boring and it's made from very poor quality 'meat' – often saved from being pickled in a jar. We set out on a revolution to change that."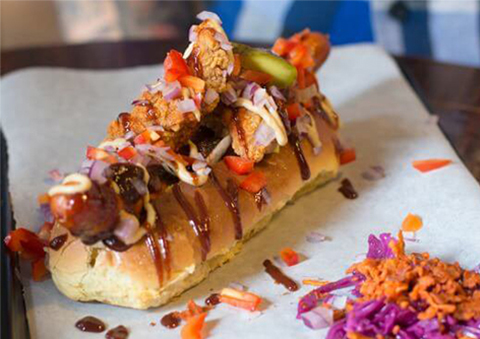 Hot dog restaurant, Hogwurst, is launching alternative food pop up concepts, quiz nights, its own range of hoodies and 'Hogwurst Presents…' nights in the new year.
'Hogwurst Presents…' nights will give food vendors the opportunity to take over the cafe and its hoodies, t-shirts and weekend duffle bags will all have yearly fashion changes. They are planning monthly quiz nights and a speed dating event to coincide with Valentines day.
This Christmas, apple pie and bacon flavored milkshakes will be on the menu and free upgrades, such as smoky-bacon with your frankfurter, are up for grabs. Hogwurst milkshakes are served in vintage milkshake bottles and their chips delivered in left over golden syrup cans.
The owner of Hogwurst, Hoa Dieu, 33, explains this isn't just quirkiness for quirkiness sake. He says, "We like to be a responsible cafe and do our bit in reducing food packaging and waste."
Hoa opened the restaurant in October 2014 on North Road, Cardiff, because of the lack of places doing hot dogs justice. Hogwurst frankfurters on the other hand are 100% meat, free range and made in Gloucester by an award winning charcuterie. Their brioche buns are sourced from a local, family run bakery which is centuries old.
However, Hoa explains that food is just one element part of the Hogwurst brand. He also wants to, "Provide a safe, warm and social environment with board games, wifi and great coffee and cakes to suit." He even extends his hospitality to saying he has, "No objection to people buying one drink and sitting there for hours", as he much prefers the company.
Regular customer, Donna Jones, reaffirmed this view. She said she returns because of the, "Totally relaxing atmosphere, laid back staff, and locally sourced food."
About Post Author