Information on rehoming from Cardiff Dogs Home:
Rehoming fees:
£120-£300
What is included in the fees:
First vaccination

Neutering (a condition for rehoming)

Microchipping

Flea+worm treatment

The dog will receive 2 vet checks
Contact:029 2071 1243
#SundayFunday with my snow angel, Ruby from @CardiffDogs. She is the most loving, funny goofball! #americanbulldog #deafdog #snow #adoptdontshop pic.twitter.com/JVq8Zw0VNl

— Beth Tapper (@Bethtapper) December 10, 2017
Three absolute beauties on a sleety Sunday afternoon. Bouncy, playful lad Toby (lab), pretty, gentle Yasmine (ABD) and sweet, affectionate boy Fly (collie cross). All hoping for furever homes in time for Christmas @CardiffDogs #AdoptDontShop pic.twitter.com/grh4zb414n

— Gemma R (@gemgiraffe77) December 10, 2017
Petal was an absolute cutie on our snowy walk today @CardiffDogs
She clearly had her @burnspetfood breakfast, even the cold didn't stop her! pic.twitter.com/A0iXr2FNm7

— Amber Pullen (@AmberAdel) December 10, 2017
Dogs in Forever homes
@CardiffDogs Charlie is settled into his new home. Loves everyone who he meets, happy to go for a walk any time, and always likes a cuddle. pic.twitter.com/B5oBR32p7v

— Sarah Cole (@welshcoles) December 9, 2017
Photos like this make it all worthwhile.
Charlie, Dogue De Bordeaux, moved to his furever home this week & he has firmly landed on his paws with his new family! ?#AdoptDontShop #HappyEverAfter pic.twitter.com/IVqQ4lvoxi

— Friends of the Dogs (@CardiffDogs) December 9, 2017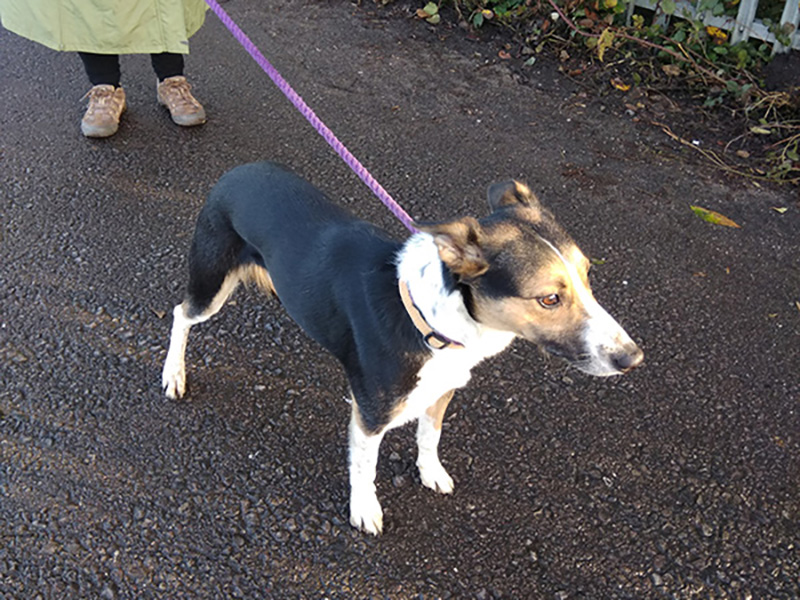 Do you want to make a difference this Christmas? Spread your love by adopting a dog from the shelter this winter 
After coming back from his walk, Apache stood behind the locked gate of his cubicle and looked out with his clear blue eyes. While the others were a young lot, his years had added to his experience and he knew that other than looking on silently, there was not much that he could do. The senior husky watched the few people that were there pass him by, to cubicles that had puppies. He saw one of the younger dogs, Lacey, who had also been rescued by the dog shelter, bark helplessly to get attention from the people as they wondered whether or not to adopt pets from the shelter. Apache dropped his gaze and padded back to his kennel with resignation.
In September 2016, out of the total 639 stray dogs that had been collected by the Cardiff County, only 259 dogs were rehomed. Even in the previous years only 40% of the dogs have been adopted by families.
Most people tend to go into pet shops to buy pets than going to animal shelters to adopt them. This leaves the government with the problem of housing a substantial number of dogs and while they are provided with the required amount of medical care and basic amenities, the dogs miss out on a great deal of love that they deserve.
People often shy away from adopting from animal shelters thinking the dogs have behavioral issues which is a common misconception. Emma Abell, support officer at Cardiff Dogs Home said, "People still think these are stray dogs running around in the woods. They are not. These are pet dogs that have been abandoned by their families." She added that as a result, there might be cases of separation anxiety but with time and patience it should improve.
Overcoming the obstacles
Separation Anxiety is an outcome of the dog being abandoned or left alone. It results in feelings of loneliness for the dog and could result in the dog barking excessively or engaging in destructive activity when left alone in the house. This is merely because the dog fears that it has been abandoned again and once the trust has been established between the owner and the dog, it grows out of this behaviour and becomes comfortable alone.
"We all get attached to some of the dogs. There is never going to be just one favourite."
According to Paws in Hand, a dog training and behaviour site, dogs also give into resource guarding where the dogs tend to protect objects or even their owners from other people as they fear the loss of the object or fear the approaching target. The dogs might become aggressive and growl or hide the desired object. However the site says that it might not just be an issue with dogs in the shelter but might be a genetic predisposition in dogs in general. To help a dog overcome this behaviour you must use positive reinforcements like treats to get the object rather than negative reinforcements like punishments.
Sniff out what's true
Petmd experts have talked about some common misconceptions that people have about adopting from animal shelters. People often assume that pets from shelters will be dirty.This is not true. While the animals might have been dirty when they first arrived at the shelter, they are immediately cleaned, sprayed, neutered, whatever the requirements might be.
Natalie B. Zhivkova, a volunteer dog walker at the Cardiff Dogs Home said,"The vast majority of the dogs in the shelter found themselves there after an elderly owner passed away or after someone's financial circumstances changed. It is through no fault of their own."
However sometimes in case of 'insufficient socialisation', dogs might become aggressive. These are mostly fear-based outcomes according to Nick Jones, a dog behaviourist who is also a member of the Canine and Feline Behaviour Association. In an article on nervous aggressive behaviour he said,"Very often one can literally lead the dog out of this stressful behaviour by an increase in leadership and control. It's rather like taking a new kid's hand in class and saying 'It's ok, let me show you how to do this'." He says that a 'calm and convincing approach' can often be enough to direct the dog.
People also tend to drop the idea of getting dogs from the shelter because they think the dogs are too old. This is untrue on two accounts. Firstly, shelters often have puppies. Secondly, older dogs are playful too and it is never too late to build your trust with the older dog and get to know its personality.
Adopting a pet is not the easiest thing to do but it comes with its own set of rewards. Emma said,"You wouldn't be able to work here for years and just love one dog. We all get attached to some of the dogs. There is never going to be just one favourite. We all really do bond with them."
Christmas is about loving selflessly and spreading happiness in the lives of others. Prior to this it might have been about letting the people close to you know how much they mean to you, but you could make a difference this time by bringing home a dog that needs your care and affection. Maybe try and bring an Apache or a Lacey home this time so that instead of watching them sadly go back into their kennel, you can see their faces light up brighter than your Christmas tree!
Information on rehoming from Cardiff Dogs Home:
Rehoming fees:
£120-£300
What is included in the fees:
First vaccination

Neutering (a condition for rehoming)

Microchipping

Flea+worm treatment

The dog will receive 2 vet checks
Contact:029 2071 1243
#SundayFunday with my snow angel, Ruby from @CardiffDogs. She is the most loving, funny goofball! #americanbulldog #deafdog #snow #adoptdontshop pic.twitter.com/JVq8Zw0VNl

— Beth Tapper (@Bethtapper) December 10, 2017
Three absolute beauties on a sleety Sunday afternoon. Bouncy, playful lad Toby (lab), pretty, gentle Yasmine (ABD) and sweet, affectionate boy Fly (collie cross). All hoping for furever homes in time for Christmas @CardiffDogs #AdoptDontShop pic.twitter.com/grh4zb414n

— Gemma R (@gemgiraffe77) December 10, 2017
Petal was an absolute cutie on our snowy walk today @CardiffDogs
She clearly had her @burnspetfood breakfast, even the cold didn't stop her! pic.twitter.com/A0iXr2FNm7

— Amber Pullen (@AmberAdel) December 10, 2017
Dogs in Forever homes
@CardiffDogs Charlie is settled into his new home. Loves everyone who he meets, happy to go for a walk any time, and always likes a cuddle. pic.twitter.com/B5oBR32p7v

— Sarah Cole (@welshcoles) December 9, 2017
Photos like this make it all worthwhile.
Charlie, Dogue De Bordeaux, moved to his furever home this week & he has firmly landed on his paws with his new family! ?#AdoptDontShop #HappyEverAfter pic.twitter.com/IVqQ4lvoxi

— Friends of the Dogs (@CardiffDogs) December 9, 2017
About Post Author