Côr Cochion Caerdydd Fact File
The Choir was set up in 1983 after demonstrating against Augusto Pinochet's dictatorship in Chile
The most amount of money the choir has raised in one session is £1,200 for the ambulance workers' strike in 1988
The choir has performed with the world famous folk artists Peggy Seeger and Billy Bragg
Various of their members have been arrested for their protests over the years, including two members getting arrested in anti-apartheid demonstrations
The choir sings exclusively protest songs covering a range of different issues
The choir is always looking for new members and members from different backgrounds, and practice every Friday evening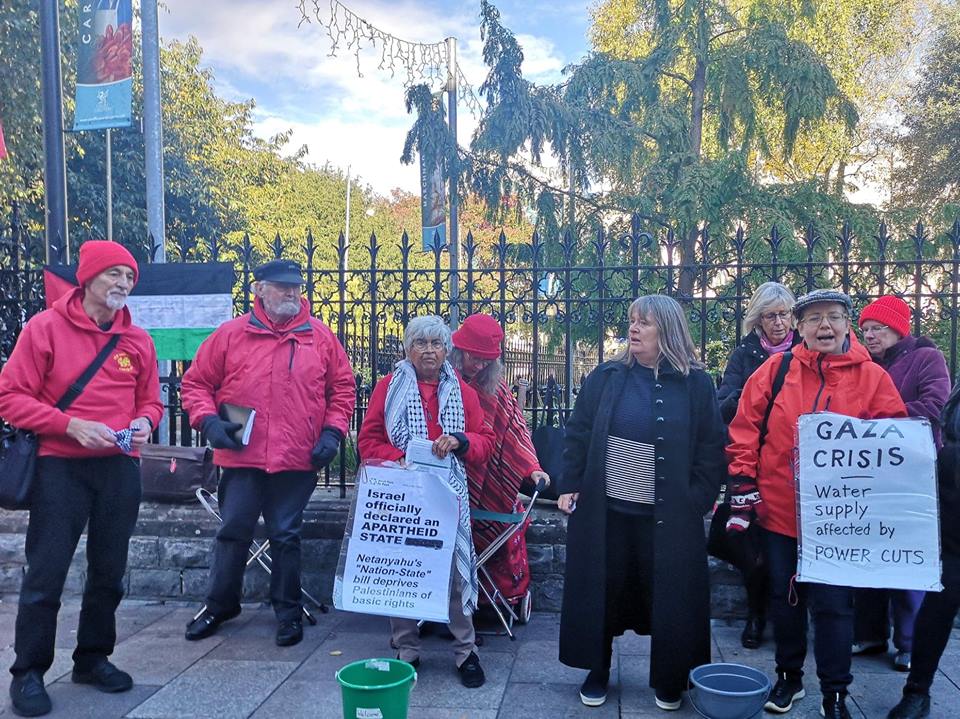 A local choir raises thousands of pounds in support of Palestine, despite being met with initial hostility  
There's a not so quiet revolution happening on St John Street.
Local choir Côr Cochion Caerdydd sing outside St John the Baptist Church every Saturday and Tuesday between 11:30-12:30. They have raised over £50,000 in support of Palestine during the Israeli .
The choir, whose name translates in English as the "Cardiff Reds Choir", support a number of issues. However, rather than support individual charities, the choir is more interested in singing about "causes".
Wendy Lewis, the choir's musical director, said the choir initially faced "active hostility" for their support of Palestine. "People even tried to stop us from singing," she said, "but support has gradually moved on to see the reality of the situation."
The choir also supports a number of causes, including homelessness, poverty, and nuclear disarmament. She stressed that, "In general, we sing for change, rather than individual charities."
She said that Palestine is high on their agenda because of the atrocities "that are still happening under the radar". She points to how three Palestinian teenagers alone were killed earlier this week in a drone strike.  
As the name suggests, the choir have a background in left wing politics and were set up in 1983 after demonstrating against Augusto Pinochet's dictatorship in Chile.
In an interview with Wales Online celebrating the choir's 30th anniversary, the original founding member Ray Davies said that he was inspired to form the socialist choir after hearing protesters sing campaign songs with strong political messages.
Wendy stresses that the choir are as much a protest group as they are about providing ambiance to the streets of Cardiff.
"Singing protests in a way that's not confrontational" is the aim of the choir, Wendy says. "Shouting isn't going to persuade people to change their minds. Singing may not change minds, but it does make them stop and listen."
The choir will be performing at the Newport Rising Festival on the 2nd-4th November.
Côr Cochion Caerdydd Fact File
The Choir was set up in 1983 after demonstrating against Augusto Pinochet's dictatorship in Chile
The most amount of money the choir has raised in one session is £1,200 for the ambulance workers' strike in 1988
The choir has performed with the world famous folk artists Peggy Seeger and Billy Bragg
Various of their members have been arrested for their protests over the years, including two members getting arrested in anti-apartheid demonstrations
The choir sings exclusively protest songs covering a range of different issues
The choir is always looking for new members and members from different backgrounds, and practice every Friday evening
About Post Author