Save the date:
Friday 30 November – Monthly Jam, Fat Fridge Studio
Wednesday 7 December – Showcase, The Moon
A powerhouse of talent:
Ladies of Rage incorporates rappers, songwriters and spoken word word poets. It's a home for women interested in the hip-hop, grime and drum and bass scenes, while looking to expand into beatboxing and breakdance. Among them, members are trained to work in radio, take photos and shoot video, so everything is in-house and ready to roll.
Visit Cardiff Music Women for news and opportunities to get involved.
Listen to the latest episode of Mamma's Gunna:
Ffion recommends:
No Name Disciple
Sa Roc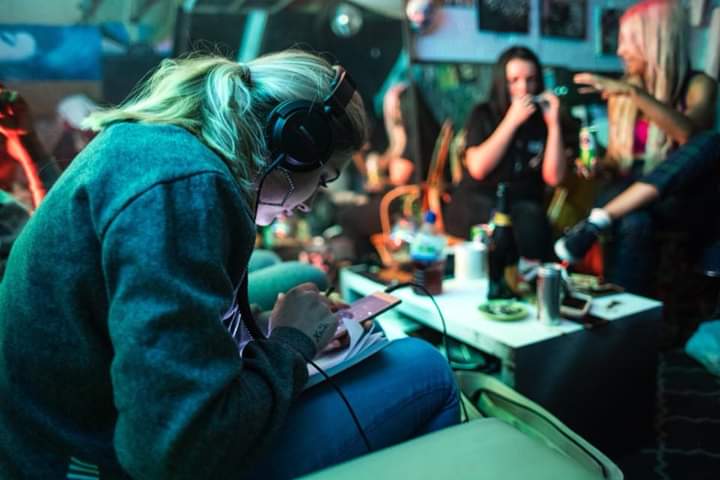 Cardiff collective Ladies of Rage push back at the city's male-dominated music scene, as they prepare to showcase their skills at The Moon 
Ladies of Rage is open to all women who write rap lyrics and mix tracks. It's a growing movement, 80 members strong.
Ffion Wyn Morris founded the group to unite women in Cardiff's music scene. They will take over The Moon on 7 December for their first showcase performance.
Ffion believes it will give women the chance to be heard. "You're missing half the story at the moment," she says. "Rapping and being a DJ, controlling the music – it's an empowering situation to be in."
While hosting her show Mamma's Gunna on Radio Cardiff, Ffion discovered the extent of female talent going unrecognised. "I had a lot of people say, you're going to run out of things to play. I really haven't. Women cover the spectrum [of hip-hop] as much as men."
MC and DJ Gemma Smith, who goes by the stage name Missy G, believes now is the right moment for an all-female collective to launch. "It's the way the world is," she says. "We've got a female prime minister. It's about time we smashed it in the music industry too and made a stand."
But Ffion has faced criticism from male rappers for daring to set up a women-only crew. "I've been accused of causing further segregation in the hip-hop scene in South Wales," she says. "It's because they're threatened. I'm highlighting the fact that there are women here too."
Her goal is to create a safe space for women to share issues they face working in music. Informal jam sessions in November will help members gain confidence, as they build skills in mixing and writing lyrics.
Ffion plans to launch Ladies of Rage as a registered community group, and do outreach work with teenage girls in Cardiff. "It's about boosting confidence," she says. "We're arming women to go out there."
Find Ladies of Rage on Facebook to get involved.
About Post Author