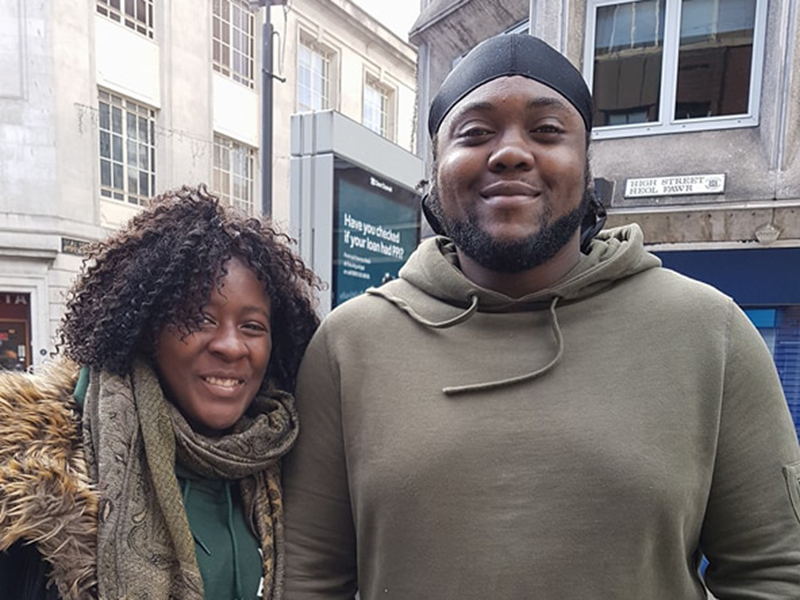 With the arrival of a Harry Potter shop in Cardiff, is the franchise starting to get a bit riddikulus?
It's grown from a book series to a Sirius-ly good film franchise, but will a Harry Potter shop in Castle Arcade win any house points with the people of Cardiff?
Alix Andrea Reid, 22, merchandising assistant, London
O'Neil Daley, 22, chef, London
Alix: "I grew up with Harry Potter so it's probably going to stay with me forever. I would probably go in there and buy a wand and stuff – not to do anything with it, but just to have a wand."
O'Neil: "I watched all the movies, but I wouldn't say I'm a big fan of Harry Potter. I would definitely go to the shop though. I'd say it's going to be really popular around Christmas."
Victoria Carter, 40, potter, Bath
"I think people buy what they want to buy. There are lots of Harry Potter stores everywhere, and I think that perhaps if it's a shop filled with tailormade clothes then people will love it. People are still crazy about the Harry Potter franchise, after all these years, and it's definitely better than having empty shops in the city centre."
Eleanor Lindop, 34, HR, Shropshire
"It definitely has a cult following, but I probably wouldn't go into the shop. I'm just not interested, but I guess people are into that sort of thing so it'll probably do quite well."
Molly Berry, 20, student, Perth
"Now that Harry Potter has branched out to create Fantastic Beasts and Where to Find Them I hope there will be something for people who like both series', or maybe stuff for people who like the design of the clothes in Hogwarts and don't even care about Harry Potter. I might visit and buy some souvenirs."
Barbara and Krzysztof Wilgo, 29 and 32, engineers, Warsaw
Barbara: "I don't think I'm going to go there and buy anything. I might go in and look around at some point, but that's it."
Krzysztof: "If people like Harry Potter then having a shop is a fun idea. I haven't read the books at all, and I've only seen maybe half a movie, but if it works for people then give them what they want."
Ken Corn, 60, teacher, New York
"I think it's pretty pathetic. I think it's another mindless consumerism wheeze to try to milk this franchise further and sell Harry Potter shit. I mean, we have lots of other shops that are selling rubbish so I suppose a Harry Potter shop is no worse than many.
Are they trying to cash in on the castle being nearby? It's lame."
About Post Author