Indulge yourself with delicious food and drinks from:

The Parsnipship – Vegetarian and vegan treats
Inner City Pickle – Chutney, pickles, jams, curds and relishes
Tast Natur – Artisan botanical syrups
Pipes Beer – Artisan bottled beers
Field Bar Wine – Handmade fruit and flower wines and gin liqueurs
Bute Park Nurseries – Festive plants 
Ridiculously Rich by Alana – Luxury handmade cakes
Canton Community Garden – Honey
Shirley's Raw Chocolate – Raw chocolate bars
The Handmade Chocolate Emporium – Handmade artisan chocolates
Ciao Bella – Italian fine foods
Greek Desserts – Doughnuts and baklava
Cheese Pantry – Cheese
Teifi Cheese Company/Da Mhile Distillery – Artisan raw milk cheeses and organic farmhouse gin, whisky and liqueurs
Alex Gooch Sourdough – Speciality breads
Pips for Milk – Artisan hot chocolate
Take a look at what the food fair was like a few years ago: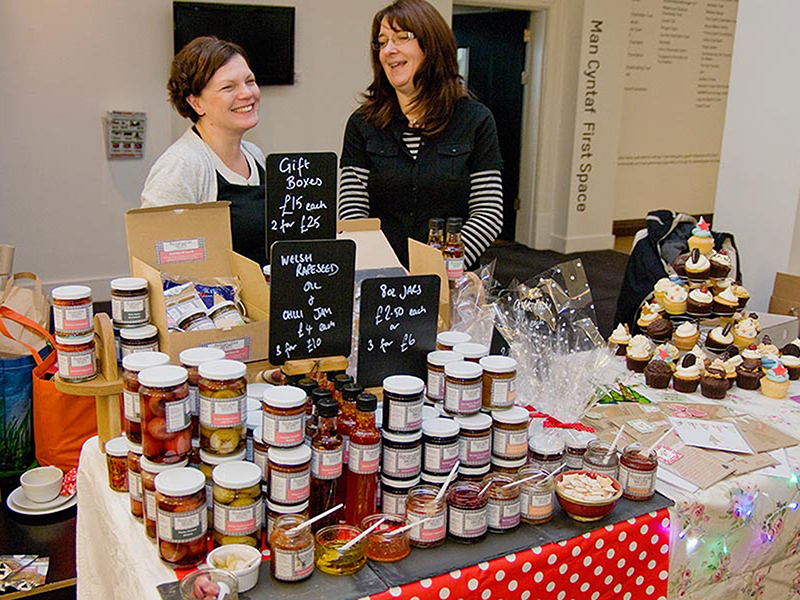 Get ready for a festive food feast with delicious Christmas treats and stock up on tasty food from local Welsh producers

After another successful year, a festive food fair is back in Cardiff which showcases some of the best local Welsh produce.

On 10 December the Chapter Arts Centre is bringing back their annual food fair where customers will be able to stock up on Christmas treats and get involved in free foodie activities for wildlife.

The Chapter is primarily an arts centre, presenting and producing international art, performance and film, and the food fair is a wonderful opportunity for the public to celebrate the festive season with delicious and locally produced food.

The arts centre holds two main events for the Christmas period which gives locals the chance to get involved in festive activities.

The organiser of the event Kate Owen said, "We hope that both provide an opportunity for our regular customers to shop for seasonal treats, and also to attract new customers who might not otherwise have been to the Chapter."
Eira Ellis-Evans from Inner City Pickle makes delicious jams, marmalades, pickles and chutneys from her own kitchen in Cardiff and the fair is a fantastic opportunity for her to showcase her products. 
"The fair is a wonderful event and starts the Christmas season for me"
Eira said, "The festive food fair is a wonderful event and really starts the Christmas season for me. The customers seem to really engage with me and are genuinely interested in my story and the produce that I make from locally sourced ingredients."

The arts centre is also very committed to be part of the local community in Cardiff by offering different activities for the locals to get involved in. Alongside the tasty treats, people can also learn how to make fat balls for birds and plant veg pots for slugs.

From luxury handmade cakes to organic farmhouse gin, whisky and liqueurs the festive food fair has something for everyone to try out this Christmas season.

Indulge yourself with delicious food and drinks from:

The Parsnipship – Vegetarian and vegan treats
Inner City Pickle – Chutney, pickles, jams, curds and relishes
Tast Natur – Artisan botanical syrups
Pipes Beer – Artisan bottled beers
Field Bar Wine – Handmade fruit and flower wines and gin liqueurs
Bute Park Nurseries – Festive plants 
Ridiculously Rich by Alana – Luxury handmade cakes
Canton Community Garden – Honey
Shirley's Raw Chocolate – Raw chocolate bars
The Handmade Chocolate Emporium – Handmade artisan chocolates
Ciao Bella – Italian fine foods
Greek Desserts – Doughnuts and baklava
Cheese Pantry – Cheese
Teifi Cheese Company/Da Mhile Distillery – Artisan raw milk cheeses and organic farmhouse gin, whisky and liqueurs
Alex Gooch Sourdough – Speciality breads
Pips for Milk – Artisan hot chocolate
Take a look at what the food fair was like a few years ago:
About Post Author