Challenges of competing with chain stores, in the words of Wellfield Court's business community:

Paul Reeves, owner, Mojo King Clothing on stock clearance
"I have stalls at scooter rallies to get rid of stock. The one drawback you suffer when being in an arcade is disposing of end of season stock, because no matter how big my sale sign is, people won't see it until they come down the arcade."

Stuart Boltershone, co-owner, Café du Chat Noir on chains being consistent
"Small independent businesses can learn from big chains because of their consistency in standard. They also run mystery diner programmes which instil in staff, the importance of customer service."
"It's about having the attitude of a big place and adding your personality to capture the customer."

Belinda O'Donnell, owner, Penny Lane Vintage, on hosting websites
"I have only one of each item and it's a lot of work to host a website to list single items.
Everything is competition nowadays because of the internet. ebay is competition!"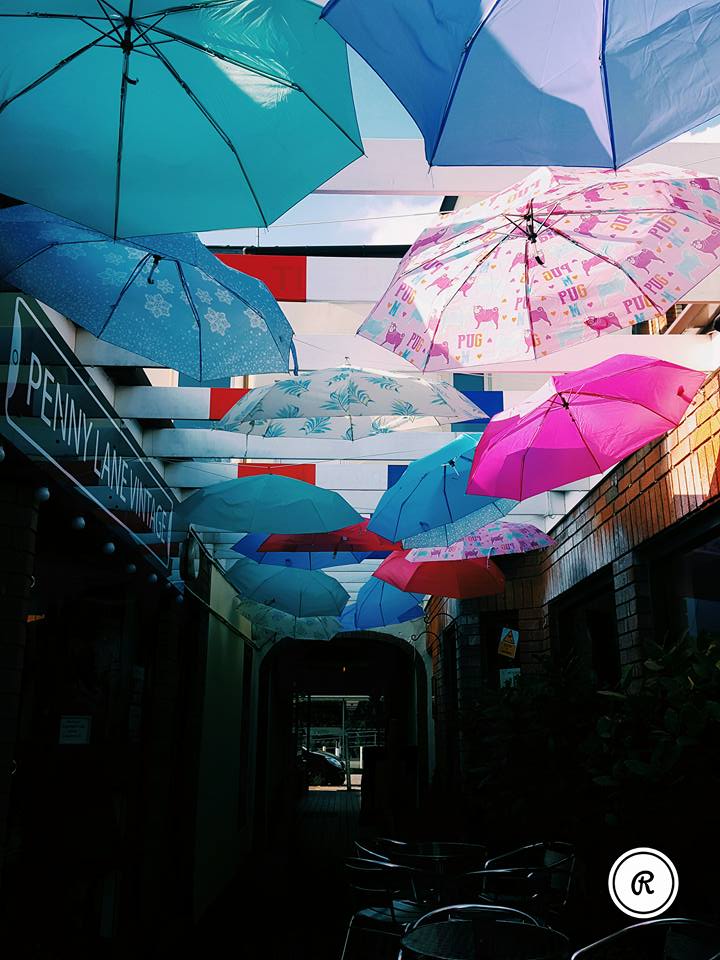 How does Wellfield Court, a labyrinth of small businesses, compete with chains?
In July 2014, a canopy of colourful umbrellas appeared over the streets of Agueda, Portugal to ring in a local arts festival. This whimsical creation has since been emulated in many locations worldwide including the Dubai Mall, Qatar's Souq Waqif, Turkey's Antalya street and Cardiff's own Wellfield Court.
Privately owned Wellfield Court, on Wellfield Road is home to 10 independent business establishments. As the courtyard is not immediately visible from the main road, the tenants jokingly refer to it as Cardiff's best kept secret. To vie for customers, retailers down the corridor are now relying on the viral impact of social media to promote their business and create online visibility for their brands.
Eclectic and award winning
Mojo King clothing sells modtastic menswear and has been a tenant for nine years. Paul Reeves who owns the store says it is a lifestyle shop that caters to those with a little cash to spare, primarily in their 40s, trying to relive their youth.
Paul's neighbour, Belinda O'Donnell, is ecstatic. Her store Penny Lane Vintage has just been awarded Cardiff's best fashion retailer, at the 2016 Cardiff Lifestyle Awards.
It's always a struggle to get footfall into the arcade but "fingers crossed" the award is going to help business and put it on the map, Belinda says, sounding hopeful.
Stuart Boltershone and his French business partner Dorothee Henry recently converted the long-standing Wellfield Diner (located opposite Belinda's store), to Café du Chat Noir – an authentic bistro, complete with Wi-Fi. Classy, yet individual, a little bit of Paris in Cardiff is how Wendy Powell, a customer describes the café.
The Beads Nest, a women's accessories store just celebrated ten years in the court.
Wellfield Court is over 30 years reveals the store's co-owner Vivienne Whitty. Once upon a time the arcade was part of a house. Remnants of the old house's chimney is still visible from inside her boutique.
Tweeting from a secret location
Most owners are in consensus that due to the corridors concealed location, the survival of their business is largely dependent on social media marketing and word of mouth.
Belinda reveals: "Anybody that's in an arcade knows that it's difficult to get people down the arcade. Us little businesses down here are constantly trying to get people in from the main road. There are so many people that live around here who don't even know this arcade exists."
Belinda explains tactics like using an old Baker's bicycle and social media platforms have helped attract attention to the store.
Facebook and Instagram posts visually showcase the quality and style of her product range, ensuring customers stay connected with her brand. In fact, since the Made in Cardiff Award was voter based, regular social media appeals to her 800 plus followers helped the boutique to bag the award.
Vivienne confirms she too relies on Facebook, Instagram and word of mouth to promote her boutique to young and old audiences as her store caters to both segments. Stuart adds that Wellfield court also has a community Facebook page which the retailers jointly update.
Paul agrees with both ladies that social media is playing a big part in marketing: "When I first opened, I used to distribute flyers at Northern soul nights. Now, things have changed a lot with Facebook and Twitter."
For example, the younger segment are discovering mod styles like the Harrington jackets because they are active on social media, he explains.
Paul says his brother who lives in London helps update the Mojo King Twitter account with the store's latest arrivals.
"He is younger and cooler than me and enjoys tweeting content I send him. I can manage Facebook," Paul mentions with a grin.
Loyal Tuesday Lady
The store owners believe that customers find shopping in the arcade a more relaxing experience than shopping in town. They have more time to spend with their customers and Penny Lane Vintage even offers bespoke services like personal dressing. They demonstrate passion for their products which are bold and unique, as opposed to regular concession brands found in Cardiff's shopping malls.
"I'd rather go somewhere like Wellfield Road or Court," says Cardiff resident Claire Mahoney. "Cardiff's city centre is all about chains and makes the city a bit faceless, while small shops in arcades is what gives the city character," she muses.
Sally Osborne, another local finds The Beads Nest great for gifts and says since parking is easy on Wellfield Road, it saves her the hassle of going into town.
The fact that customers are personally attended to by the owners is what makes them return to the court.
As chef Andrew Murry explains, in catering, people come for the food, but return for the service, which may justify why Stuart has fondly christened the café's most loyal customer 'Tuesday Lady.' She makes it a point to visit the café weekly for coffee or a bowl of her favourite French onion soup.
"We serve French food with Welsh portions," says Stuart of his chic café.
"Generous portions," Dorothee laughs as she promptly corrects him.
"The five customers who have been in here today are all regulars," discloses Paul from across the court.
"Look mummy, umbrellas!" says the little girl as she skips down Wellfield Road and notices the magical maze.
"Please mummy, can we go in?"
Challenges of competing with chain stores, in the words of Wellfield Court's business community:

Paul Reeves, owner, Mojo King Clothing on stock clearance
"I have stalls at scooter rallies to get rid of stock. The one drawback you suffer when being in an arcade is disposing of end of season stock, because no matter how big my sale sign is, people won't see it until they come down the arcade."

Stuart Boltershone, co-owner, Café du Chat Noir on chains being consistent
"Small independent businesses can learn from big chains because of their consistency in standard. They also run mystery diner programmes which instil in staff, the importance of customer service."
"It's about having the attitude of a big place and adding your personality to capture the customer."

Belinda O'Donnell, owner, Penny Lane Vintage, on hosting websites
"I have only one of each item and it's a lot of work to host a website to list single items.
Everything is competition nowadays because of the internet. ebay is competition!"
About Post Author